Read this case study about making a Goals Road Map Board.
Furthermore, see how you can make yours.
Brief: firstly, to show targets in a highly visual way. Secondly, to make attaining goals into a journey. Finally, to provide dry wipe magnetic signposts to mark points on the road.
Client: Nant Ltd
Industry: water safety specialists
Plan to succeed with a Goals Road Map Board
This board works because it show the road map to success in a highly visual way. Furthermore, the design delivers a sense of journey. Consequently, the road winds ever upwards. Therefore, success is at the summit of the board. In addition, a celebratory figure jumps for joy right at the top!  Mark successes here.
Flexible updates for the Goals Road Map Board
This example is dry wipe. In addition, it benefits from magnetic labels. That is to say, it has signposts that can be put anywhere along the journey. Moreover, these magnetic signposts are also dry wipe. This delivers quick and easy updates with dry wipe pen. Therefore, mark your targets. Subsequently, meet the targets. Finally, wipe and reuse the signpost for new targets. Above all, this is a creative way to show your targets.
Make your own Goals Road Map Board
We custom make printed whiteboards daily. Therefore, we have the expertise to help you make your own Goals Road Map Board. Furthermore, add magnetic accessories for extra functions. Above all, you choose and we deliver what you want.
Deliver a visual journey to success
Custom magnetic labels for interaction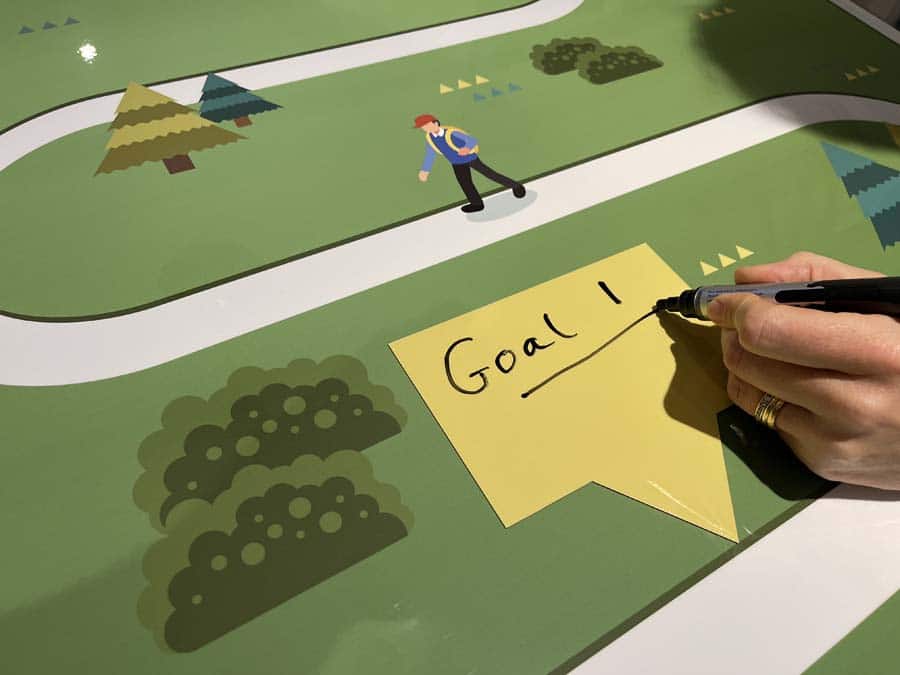 Dry wipe and therefore easy to update
Examples of our Printed Whiteboards
A creative way to show targets
Mobile whiteboards for flexibility
Handheld whiteboards provide versatility
Bespoke Red Amber Green Status dials
Red Amber Green Status Magnetics
Red Amber Green status dials
Dry wipe magnetic notes accessories
Customised waste observation board
Red Amber Green status dials
Interactive status sliders
Visual Management with status dials
Layered confirmation tracker board
Printed whiteboard corner
Our Approach
We create visual management boards everyday. As a result we have plenty of experience. We work for organisations in food production, the power industry, national rail, pharmaceuticals, education, healthcare, packaging and distribution.
Our team works with a simple idea or sketch and creates a professionally designed layout. This is then turned into a highly functional visual management board.
We offer customised options because we want to create the perfect board for you. So, here are a few examples. We can add magnetic areas or a dry-wipe finish (for use with whiteboard pens). Furthermore, you can choose Red/Green sliders or R.A.G. (Red, Amber, Green) status dials so you can quickly and visually update your board. These are just a few examples of the ways in which our boards can be tailored to meet your needs. You may also be interested in  whiteboard overlays that can be used on top of an existing magnetic board.
Discuss your customised visual management project with us because we deliver...