Why Our Visual Management Boards Work
Drive Continuous Improvement
Highly visual snapshot
Snapshot of production
Our boards work because they give a current snapshot of your production flow. Furthermore, they drive performance in a highly visual and intuitive way. Importantly, the team has an instant point of reference that is quick and easy to understand. Likewise, visual management boards create visual points of feedback for specific targets.  In addition, visual management boards can take many forms, like, for example, KPI boards and PFU (problem follow up) boards, site safety boards and other communication boards (like those pictured).
Cue for action
Visual management boards may include, for example, a RAG (red / amber / green) status dial. These work because they are a quick and universal reference system. Furthermore, they are particularly useful for tracking performance. For example, teams can instantly see areas needing improvement i.e. those with a red or amber status. Importantly, the board provides the cue to take action to improve performance to achieve green status in those areas. Likewise, successes, (i.e. those areas of performance already on green), can be identified, celebrated and built on. See more examples here.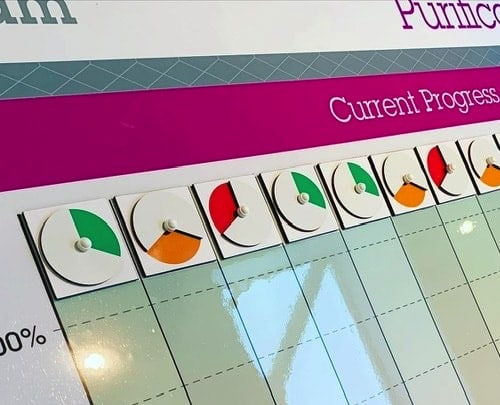 Track performance easily
Visual Management Board Examples



Visual Management with status dials

Interactive status sliders


Bespoke Red Amber Green Status dials

Magnetic document holders


Red Amber Green status dials


Red Amber Green status dials

Layered confirmation tracker board


Customised complaints board
Professionally designed for you by our team.

Targeted so you achieve the results you need.

Easily updatable so it tracks and shows progress.

Easy to understand so the key message is clear.

Add RAG (red amber green) status dials because an area's status needs to be instantly clear.

Custom sized so they fit in your workspace and near to the process.

Highly visual because this is what makes your board effective.

Showing your objectives so everyone is clear.

Well made and strong, even for production environments.
Our Approach
We create visual management displays and boards everyday. As a result we have plenty of experience. We work for organisations in food production, the power industry, national rail, pharmaceuticals, education, healthcare, packaging and distribution.
Our team works with a simple idea or sketch and creates a professionally designed layout. This is then turned into a highly functional and visual board.
We offer customised options because we want to create the perfect board for you. So, here are a few examples. We can add magnetic areas or a dry-wipe finish (for use with whiteboard pens). Furthermore, you can choose Red/Green sliders or R.A.G. (Red, Amber, Green) status dials so you can quickly and visually update your board. These are just a few examples of the ways in which our boards can be tailored to meet your needs. You may also be interested in  whiteboard overlays that can be used on top of an existing magnetic board.
Discuss your customised visual management project with us because we deliver...