Why Our Pharmaceutical Setting Visual Management Boards Work
Continuous Improvement – visual management for pharmaceutical settings
Track targets in real time. Most importantly, everyone instantly sees how the process is working, at a glance. Likewise, they can quickly identify issues and make improvements. Above all, gain insights and take action as a team.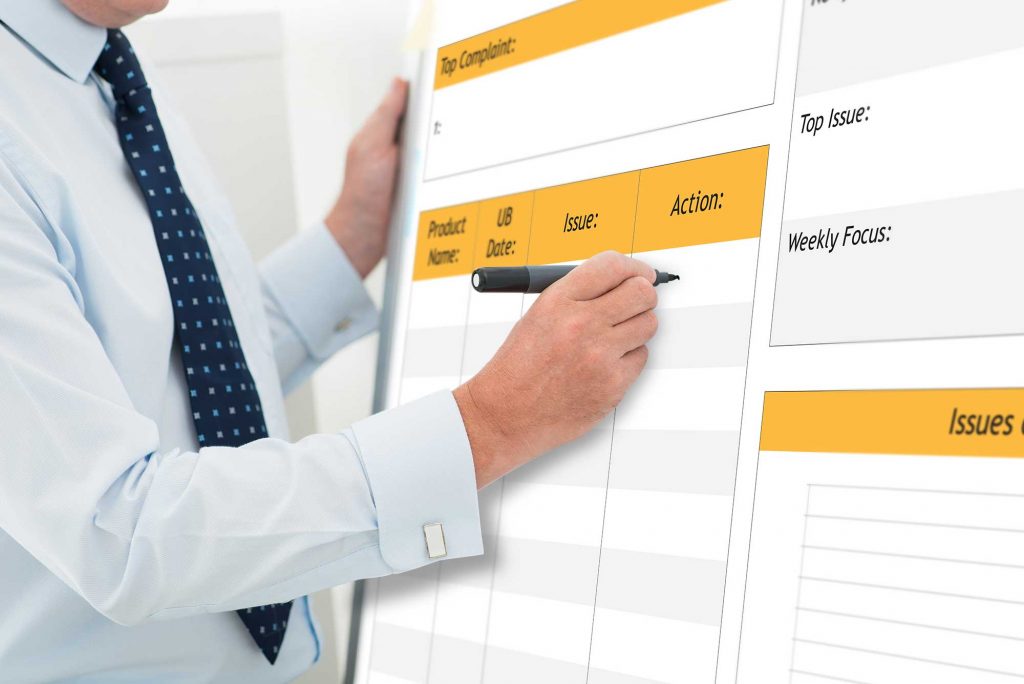 Audit ready – visual management for pharmaceutical settings
Similarly, use visual management to be audit ready. For example, display standards and status. Likewise, show how processes are operating right now. Involve your whole team with visual management concepts.
Bring Standard Operating Procedures to life
In short, make your processes immediately clear. Custom make visual management boards to for your procedures. Use Red Amber Green (RAG) dials to instantly show status. Likewise, choose Red Green sliders. Furthermore, use dry wipe status. Above all, make your processes visual. Therefore, make easy updates. In addition, assign responsibility. Most importantly, drive continuous improvement. Likewise, deliver standards in a visual way.
Meeting targets – visual management for pharmaceutical settings
In short, use Key Performance Indicator boards to track performance. So, show status for each target. Furthermore, change it in real time. Most importantly, take action and achieve optimum performance. KPI boards are an essential visual management tool for any progressive or lean manufacturing environment. Lastly, choose to add functionality to your board with our range of custom board accessories.
Meeting regulations – visual management for pharmaceutical settings
Our Health & Safety display your regulations. Therefore, use visuals to show your team the correct processes. Likewise, give them points of reference for relevant information. For example, display site rules.
Daily management processes – visual management for pharmaceutical settings
So continuously track Safety, Quality, Delivery and Cost. Similarly, add any further fields. Above all, make daily tracking visual. In short, with an SQDP visual management board. Most importantly, see progress in real time.
Problem solving – visual management for pharmaceutical settings
Put in place a Problem Follow Up board to manage concerns. In other words, report the incident, write up the problem. Likewise, log the cause. Furthermore, share the countermeasure. Add a PFU ticket system. Finally, assign responsibility for resolving issues and preventing future problems.
Manage your team – visual management for pharmaceutical settings
Manage shift patterns. Set up a team holiday planner. Show who senior management is. Establish a wall of fame and celebrate staff successes. Share staff notices and build a community within your workplace. Custom make your own staff noticeboards and other visual displays.
Sustainability strategies – visual management for pharmaceuticals
In short, show your zero carbon efforts. Therefore, make your own sustainability board. Fill it with facts, images and statistics. Above all, show how your site is making progress. For example, show the status of each of your targets. Make those targets easy to update. As a result, motivate staff to achieve reduce waste.
Handwashing procedures – visual management for pharmaceuticals
In short, use hand wash procedure boards. Above all, they make the hand washing procedures clear. Likewise, accessible to all. So, show the hand wash procedure above every sink. Most importantly, make clear exactly how to wash hands using clear instructions. Similarly, offer regular reminders about hand washing.
PPE stations – visual management for pharmaceutical settings
So make PPE changing procedures immediately clear.Above all, they show which item(s) must be put on. Furthermore, in what order. Most importantly, make all communications clear in an instant. Use pictures for quick reference. In addition, add headings. If you need, show further text. Similarly, in more than one language if required.
Visual management for pharmaceutical settings – we support you
We support you to make the perfect board for your workplace. Likewise, choose exactly what you want need. Most importantly, your board (or visual) works for you.
Further board options
So show your visual display on any of these options. Firstly, a Frameless Board. Secondly, a Printed Whiteboard. Likewise, a Magnetic Overlay (covers any magnetic whiteboard). On the other hand, choose a Mobile Whiteboard (double sided options available). Finally, Handheld Whiteboard. In short, standard and custom sizes available. Furthermore, use indoors, outdoors or in wet production areas.
Further board accessories
So all our board options work with our board accessories and status indicators.  Above all, these add visual functionality. Therefore, accessories include a range of status indicators. Likewise, many magnetic options. For example, magnetic headers and magnetic labels. Furthermore, add document holders. In addition, T-cards and ticket systems. Most importantly, we custom make board accessories. As a result, we meet your needs.
Discuss your custom visual management project further, because we deliver…