Why Our Practical Problem Solving Boards Work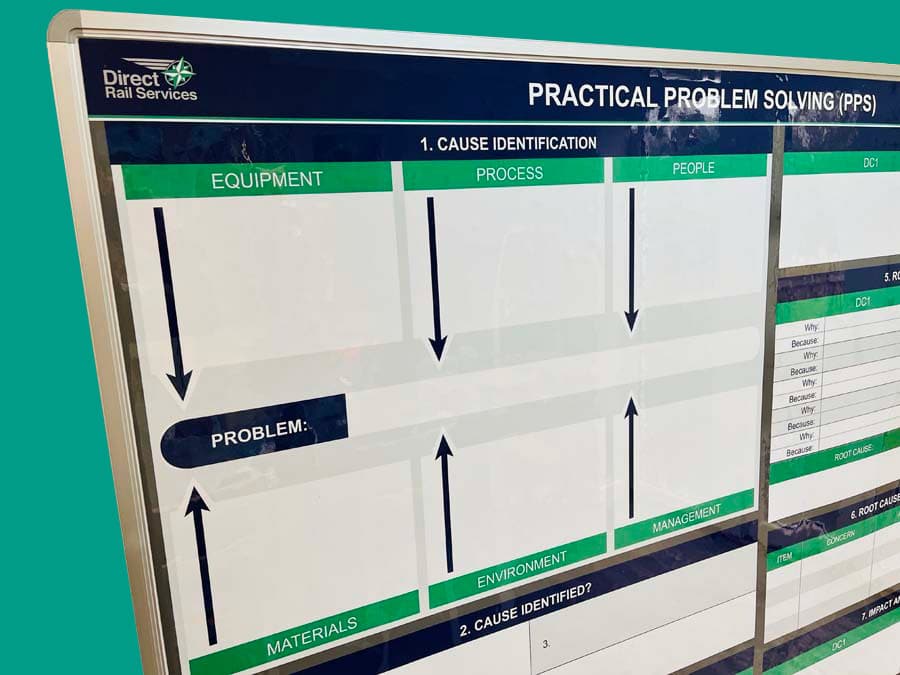 Identify your problems and display countermeasures for success
How Practical Problem Solving boards work
Use your Practical Problem Solving or PPS board in a number of ways. Firstly, for example, identify and show the problem. Secondly, categorise the issues in a visual way. Perhaps, for example, using the 4M method. This, for instance, defines categories as: Material, Method, Machine, Man.
Meanwhile, analyse underlying cause(s) of problems. Furthermore, come up with countermeasures and share them on your PPS board. Subsequently, put those countermeasures into action. After that, assess targets and evaluate results. Use visual board accessories to do this in a highly visual way. Finally, use findings to learn, and move forward….
Why Practical Problem Solving boards work
Use your PPS board to clearly show your practical problem solving process. Furthermore, break the steps of your process down in a visual way. In addition, make sure no part of the process is overlooked. Therefore, maintain a rigorous, standardised method for practical problem solving. Likewise, give your team an instant point of reference for tackling problems.
Most importantly, Practical Problem Solving boards support each step of your own problem solving process. Likewise, this, in turn, supports Continuous Improvement. Above all, your PPS board offers the most relevant information about your process in an instantly accessible way. In addition, it is a visual way of working together to solve problems.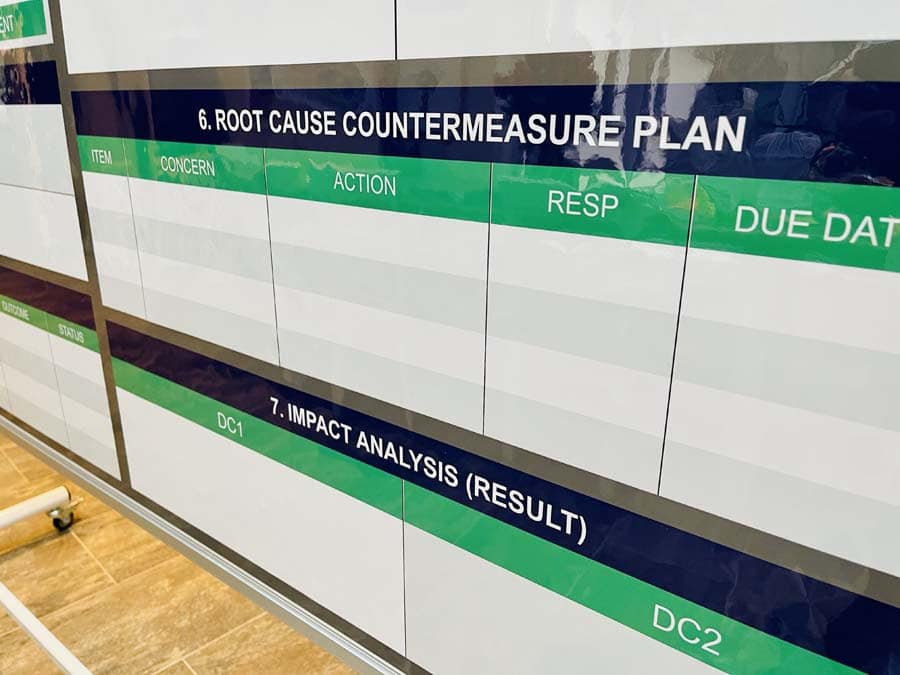 Break down your practical problem solving process into steps to ensure success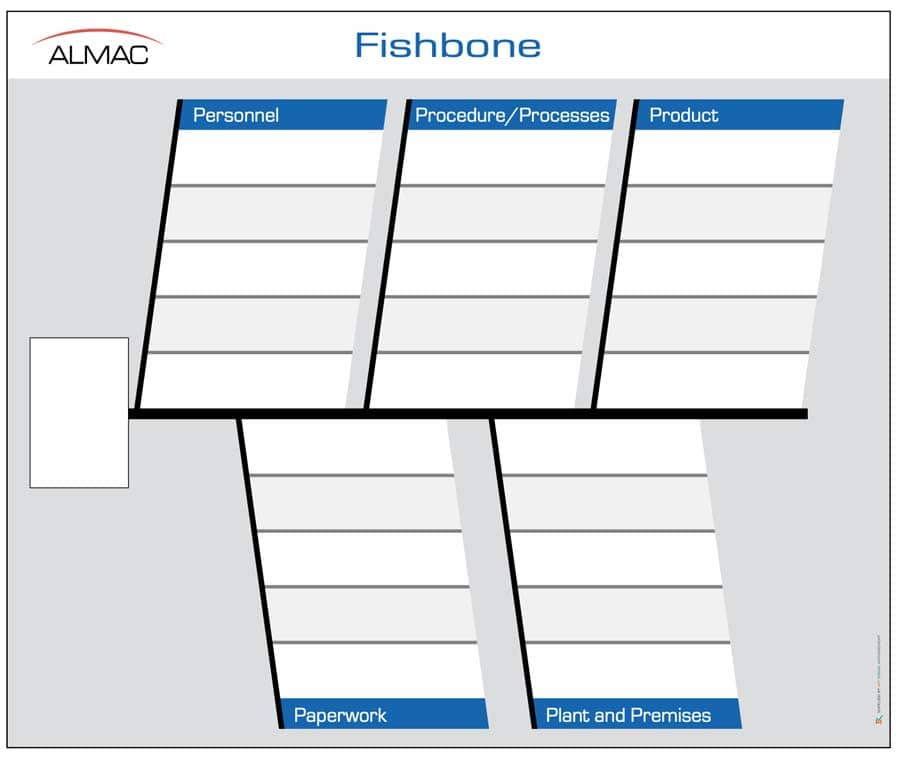 Break your issue into visual stages with a Fishbone board
Fishbone diagram practical problem solving board
This type of board is a highly effective means understanding and analysing issues as a team. In other words, use the diagram to help you work out what the root causes of a problem might be. Consequently, break the issue down into stages. Therefore, define the problem in detail considering every step of your process. As a result, find the contributing sources for faults or defects. For example, the 5Ps fits well into the fishbone diagram. It explores any of a number of relevant Ps. Firstly, for example, Personnel of People. Secondly, Process or Procedure. Furthermore, Plant, Premises or Programme. In addition, Product. Finally, Paperwork.
Therefore, use your fishbone diagram problem solving board so you can successfully work through issues. Furthermore, in an orderly and visual way. Above all, this visual process for problem solving brings the team together to resolve issues.
In short, the fishbone diagram visual board works because it delivers this visual tool in a visual way. Furthermore, it is quick and easy to update. In other words, it is dry wipe and magnetic. Therefore, it works with board accessories. As a result, add the functions you need.
Other types of practical problem solving boards
Above all, we support you to translate any of the following practical problem solving methods on to a functioning visual management board. For example, use the 4M model (Man, Method, Machine, Material) to formulate a problem statement. Similarly, the 5 WHY approach enables you to successfully identify root causes. Furthermore, to come up with and initiate countermeasures. Meanwhile the 5W 1H seeks not only to understand Why, but also How a problem exists.Most importantly, use our custom options to make your board your own. Furthermore, add further functions using our Board Accessories.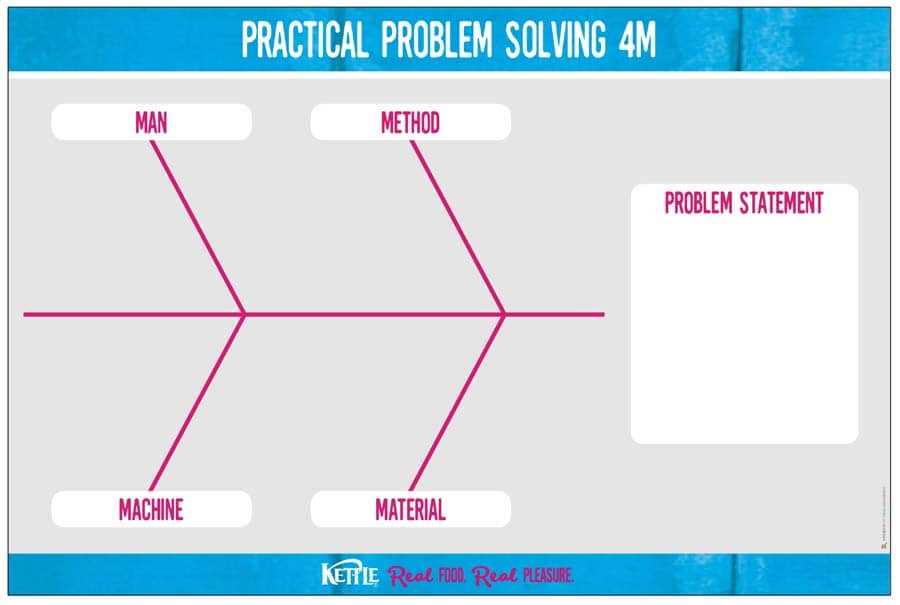 Formulate a problem statement with the 4 M approach
Examples of our Practical Problem Solving Boards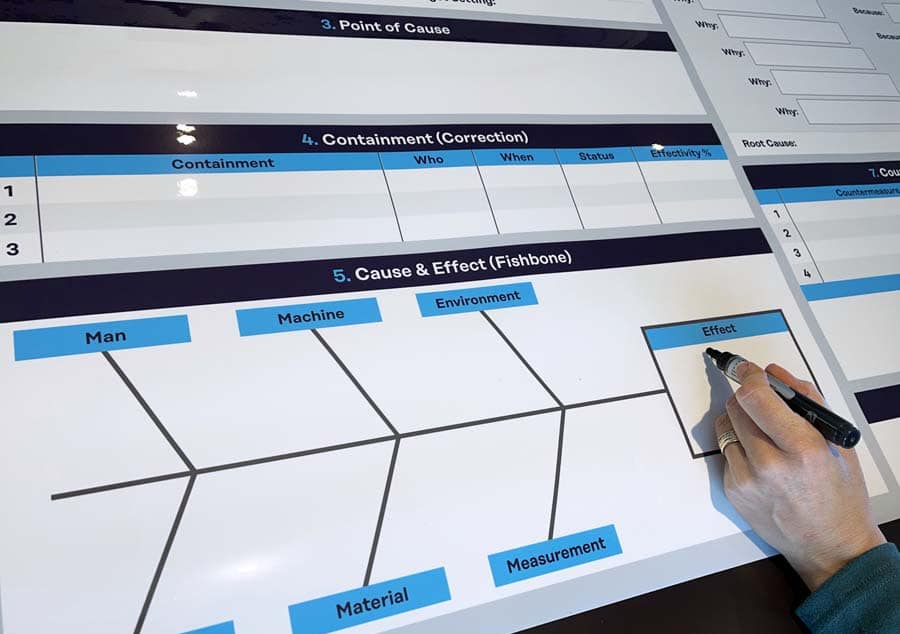 Dry wipe custom Practical Problem Solving board with Fishbone diagram

Dry wipe fishbone diagram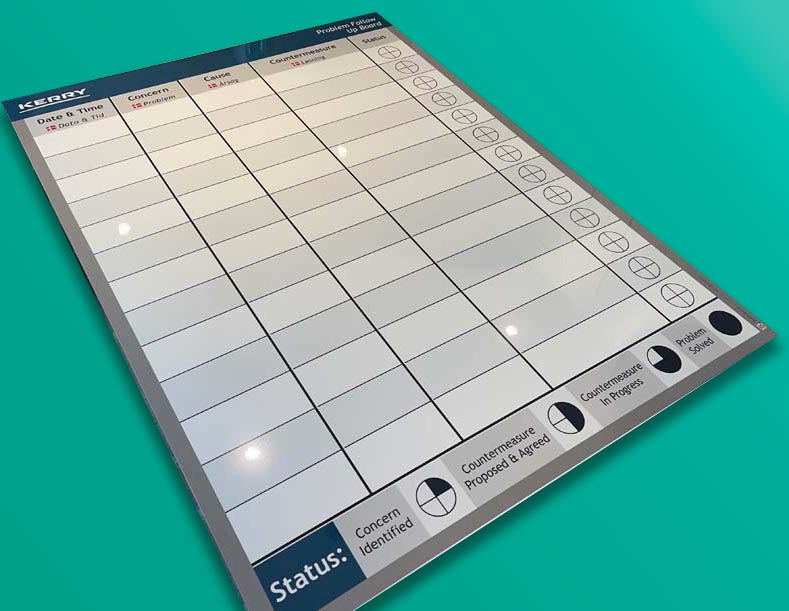 PFU board with status circles

PFU board with status circles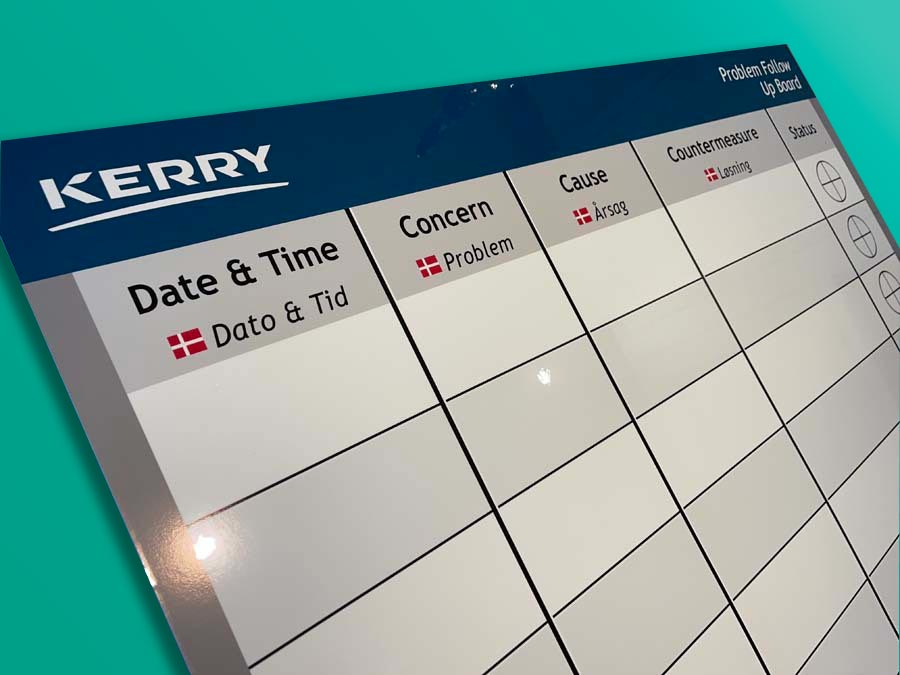 Multilingual PFU board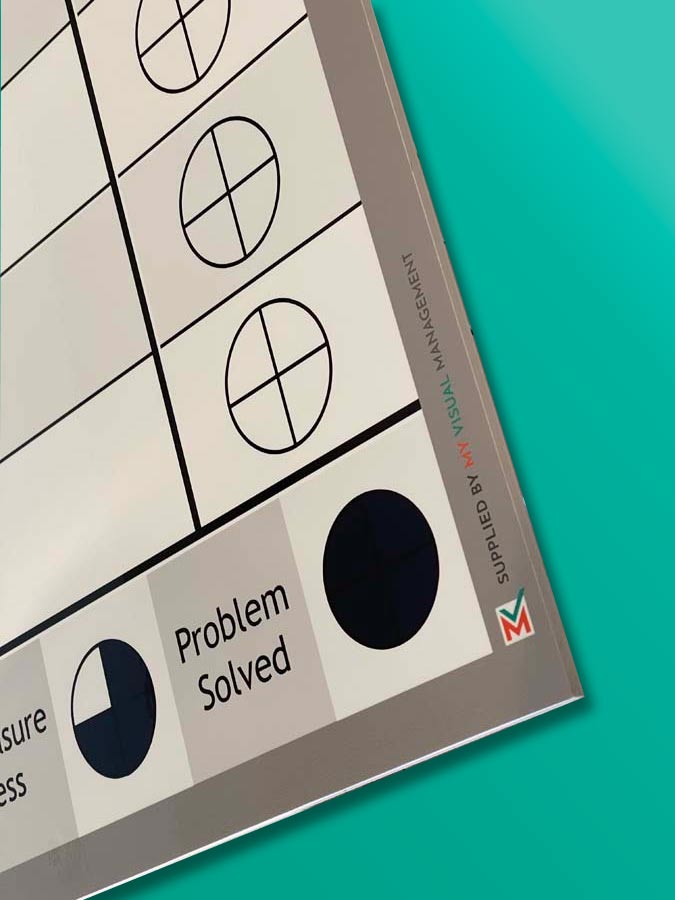 PFU status indicators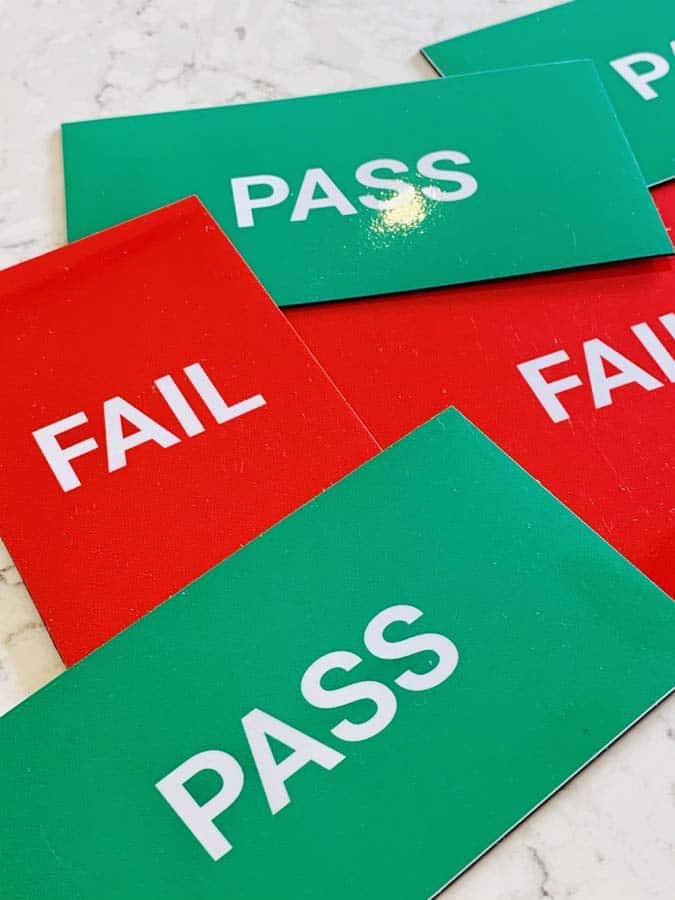 Double sided magnetic red green status labels

Double sided magnetic labels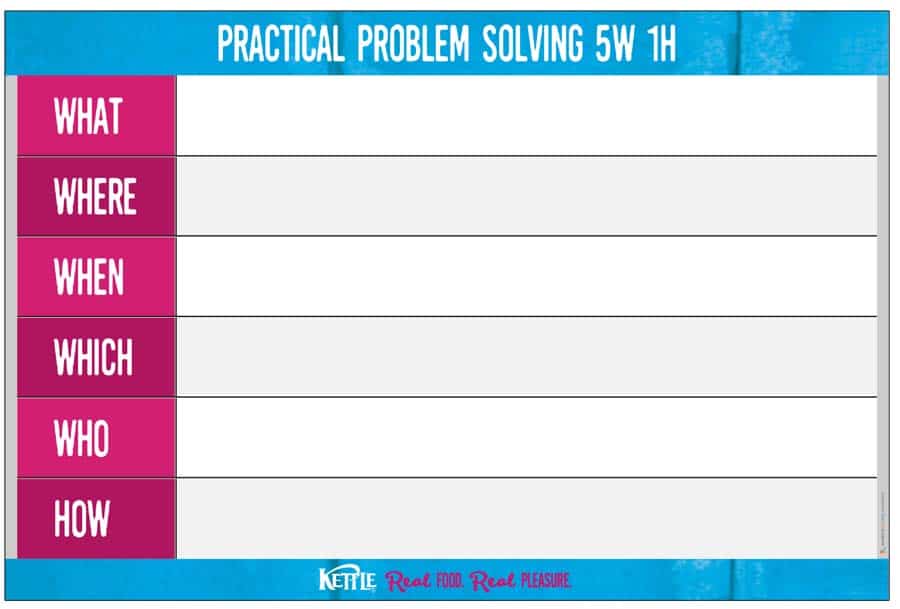 Understand the Why and the How of a problem

Use 5W 1H to find the Why and How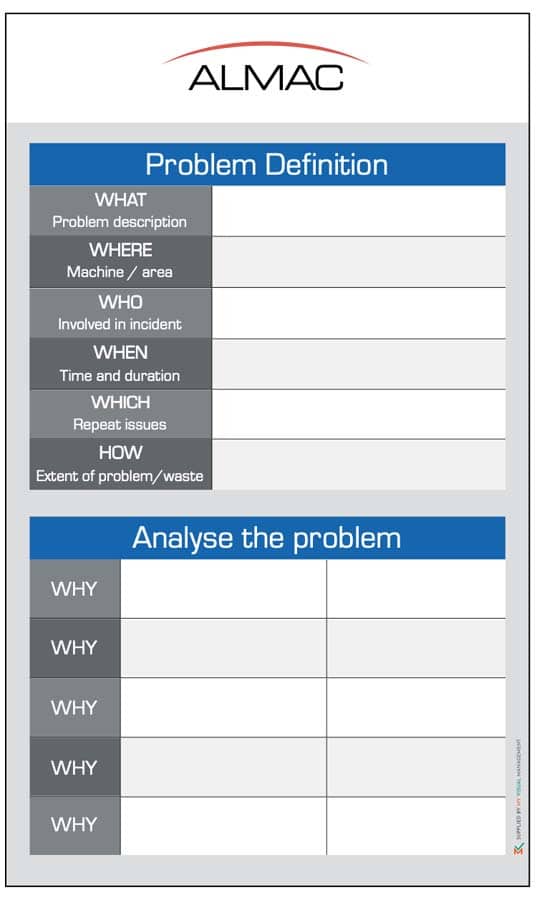 Analyse the problem with the 5 Why approach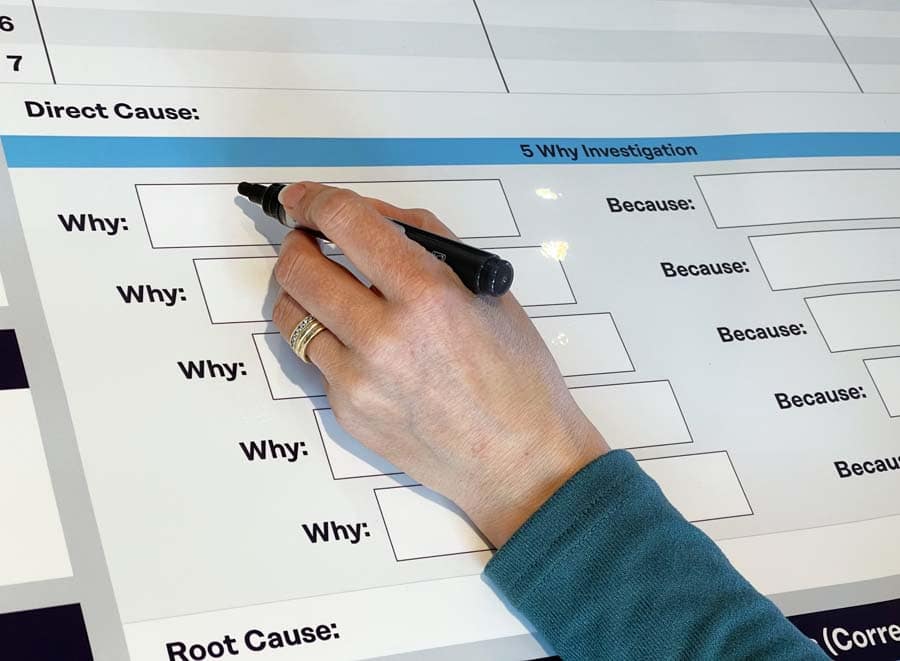 Dry wipe custom Practical Problem Solving board with 5 Whys

Dry wipe custom board in action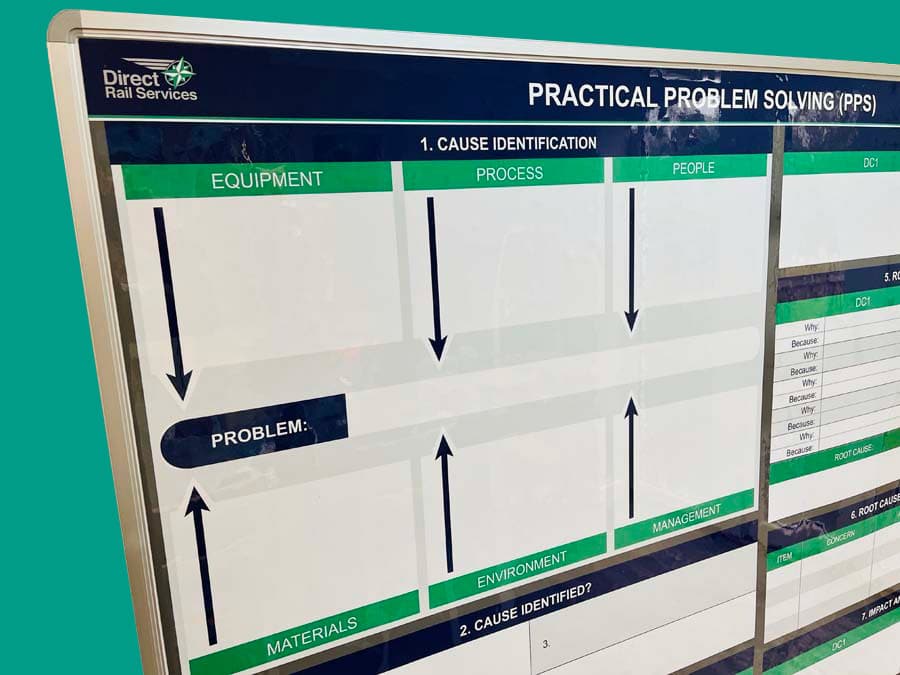 Practical Problem Solving board

Practical Problem Solving board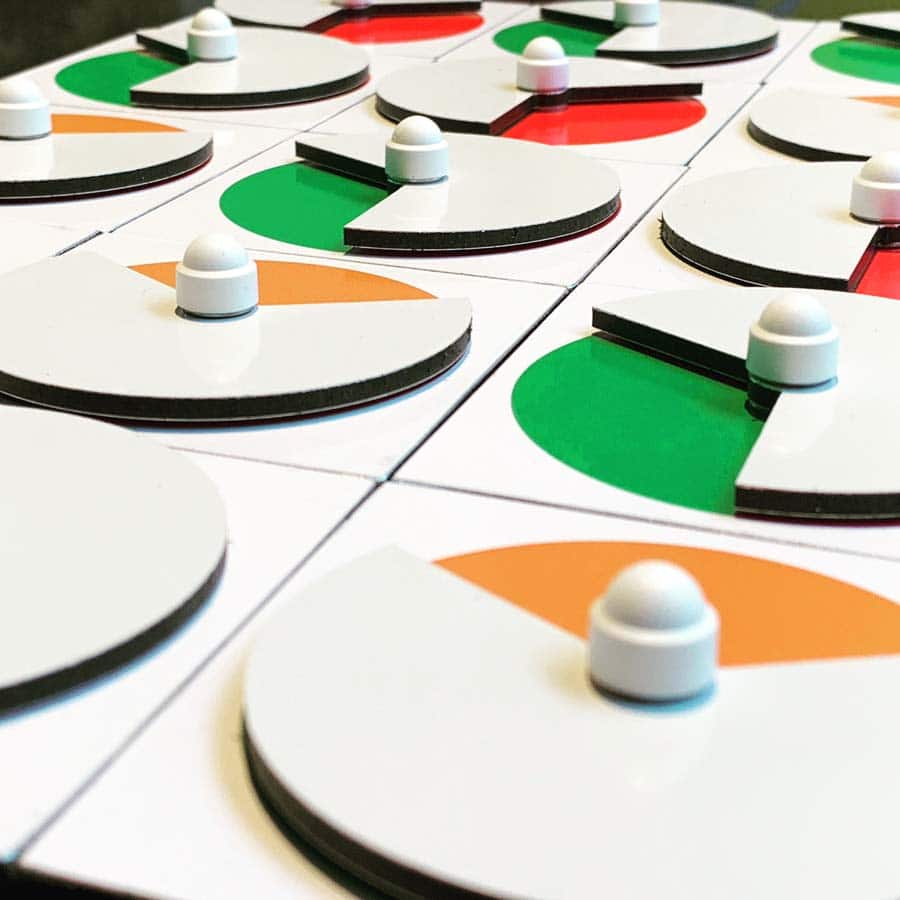 Red Amber Green status dials

Red Amber Green status dials
Practical Problem Solving board with status indicators in action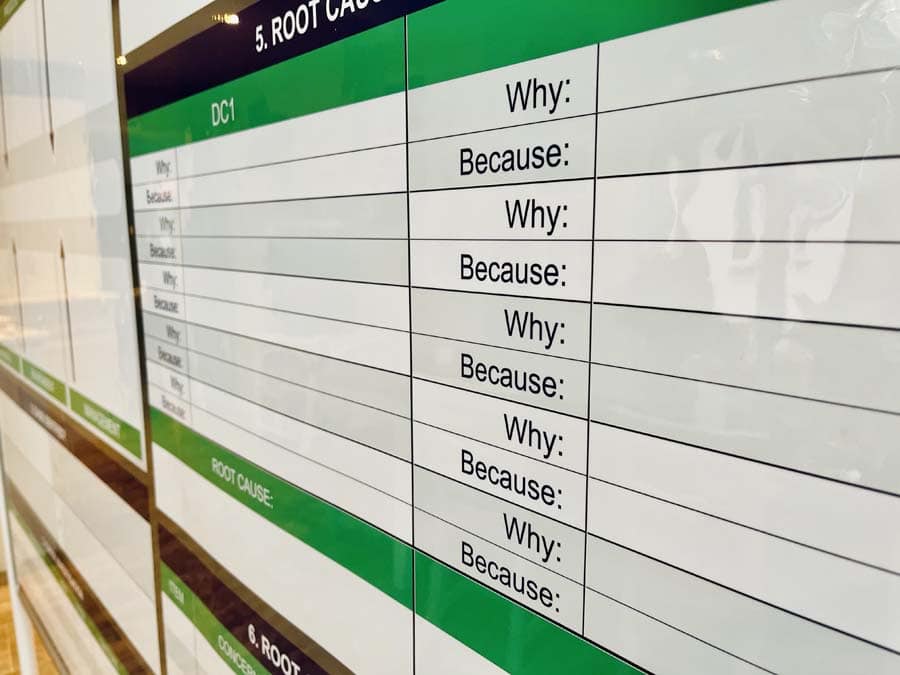 Practical Problem Solving board sets out your strategy

Practical Problem Solving board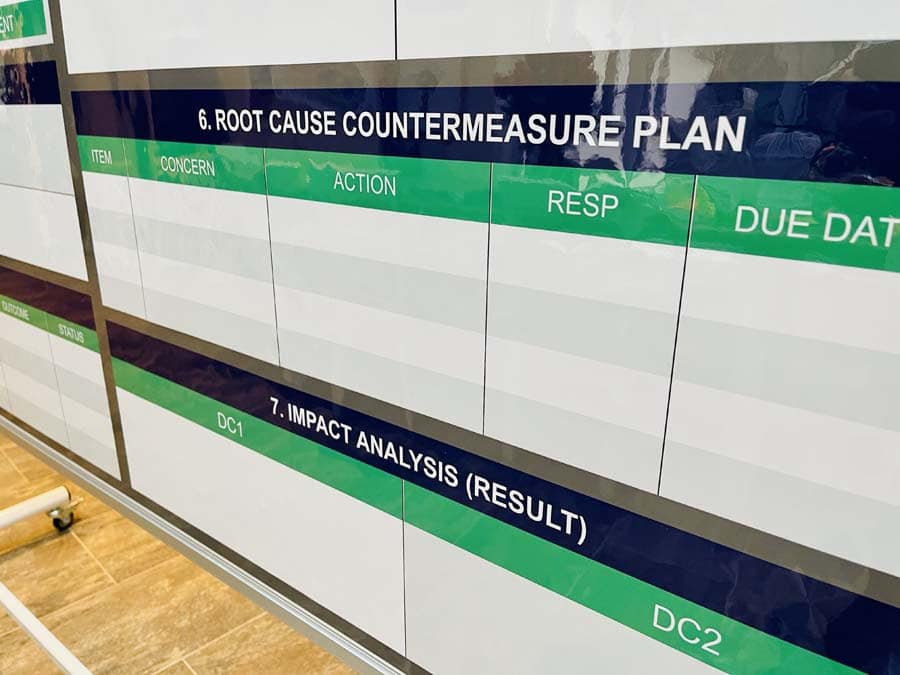 Practical Problem Solving board for countermeasures and analysis

Countermeasures and analysis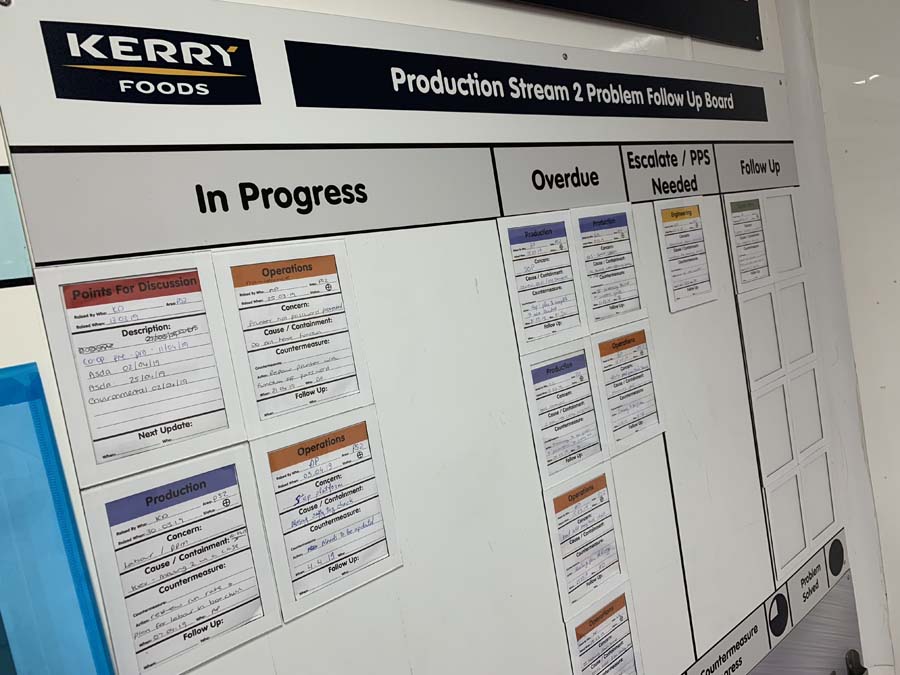 PFU board for production stream at Kerry Foods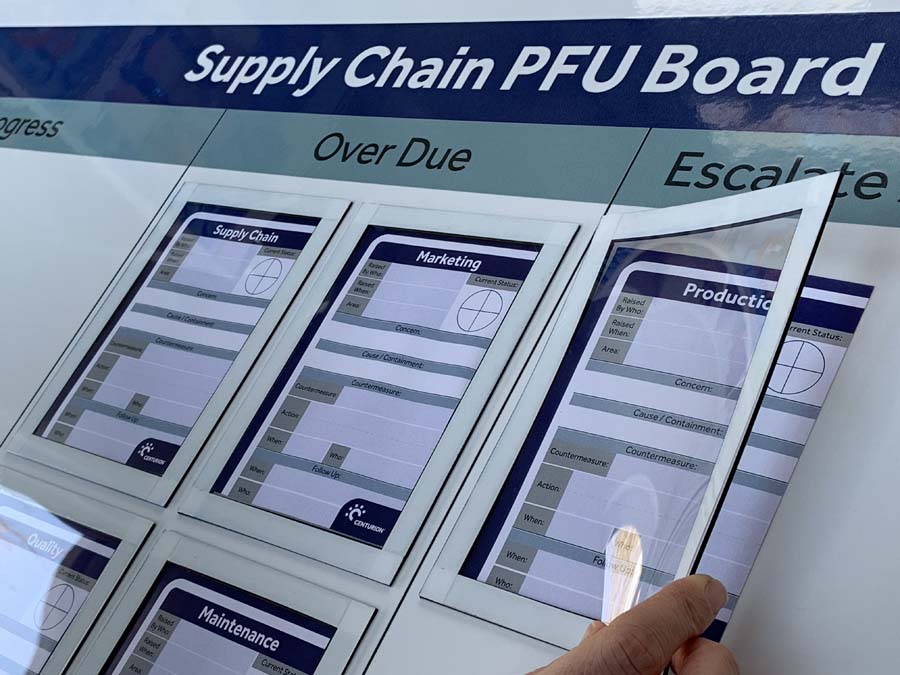 Document holders can be added to your board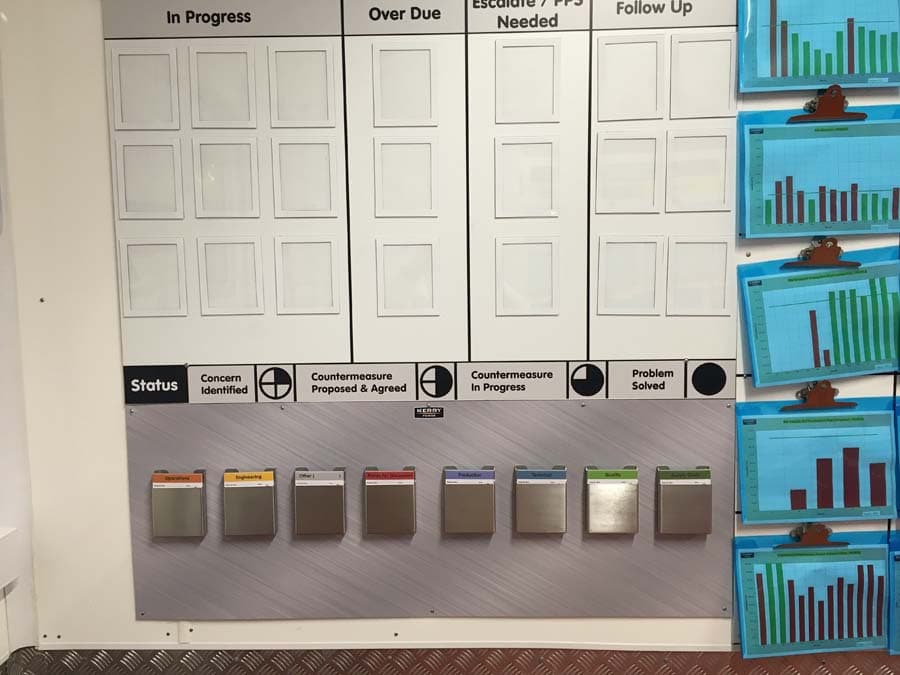 Custom PFU boards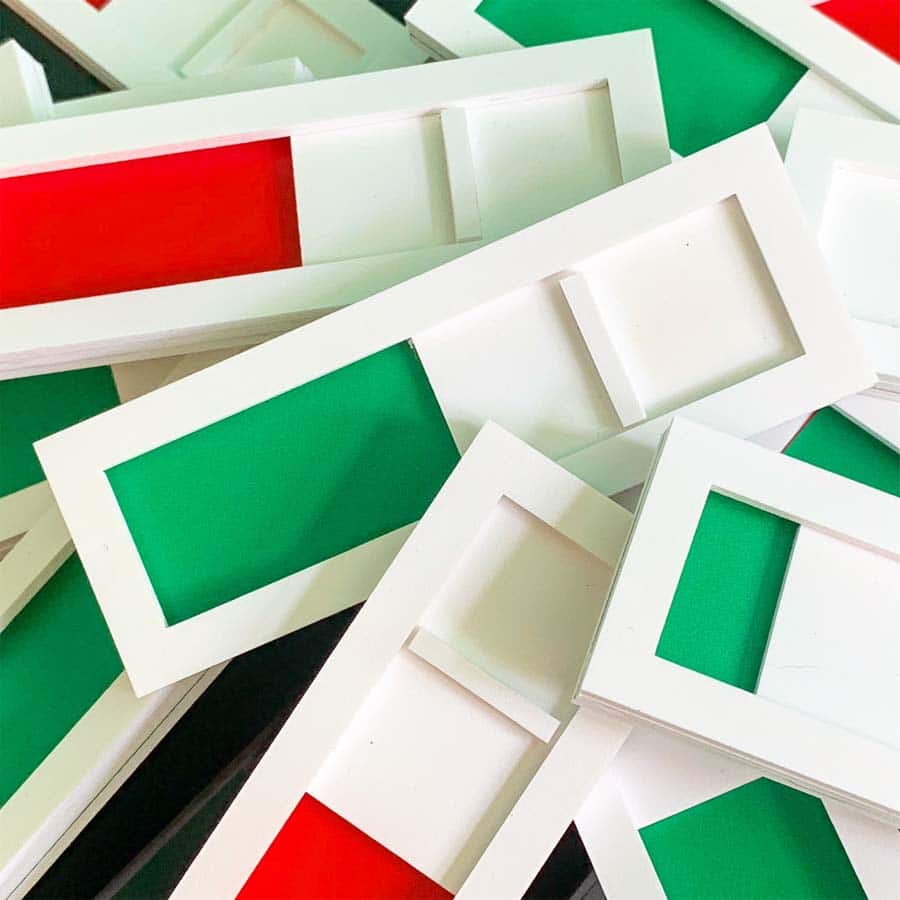 Red Green status sliders for instant visual updates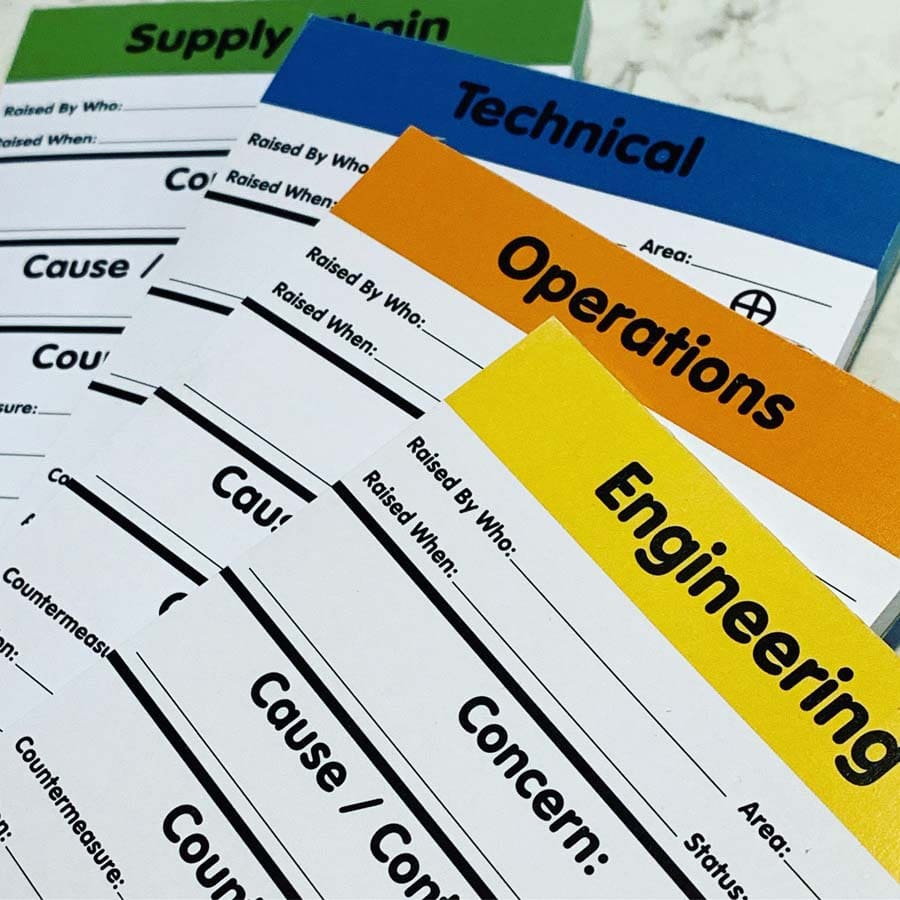 PFU tickets customised for your system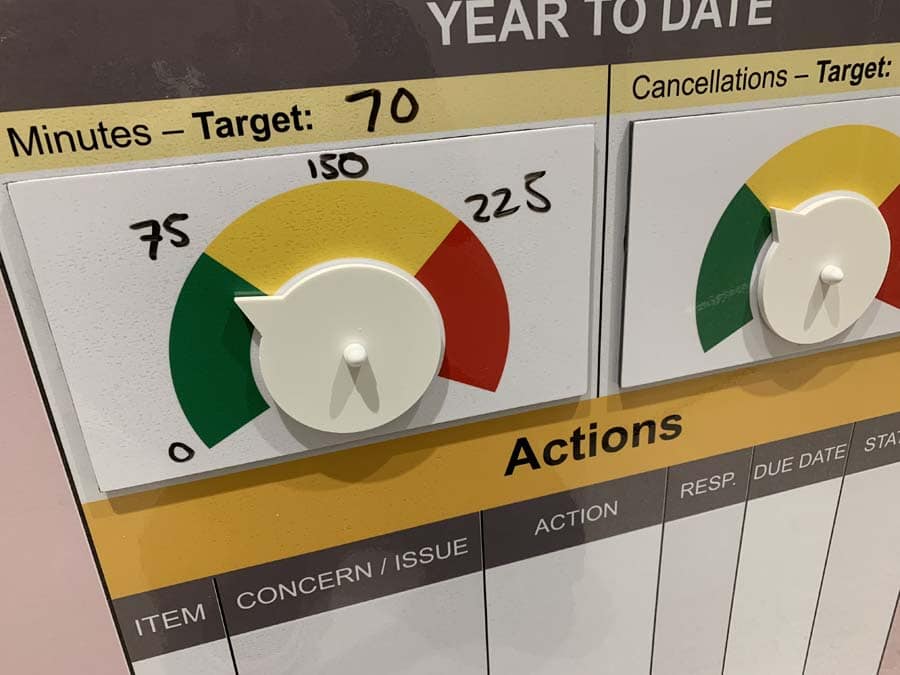 Red Amber Green status dials for visual impact

Red Amber Green status dials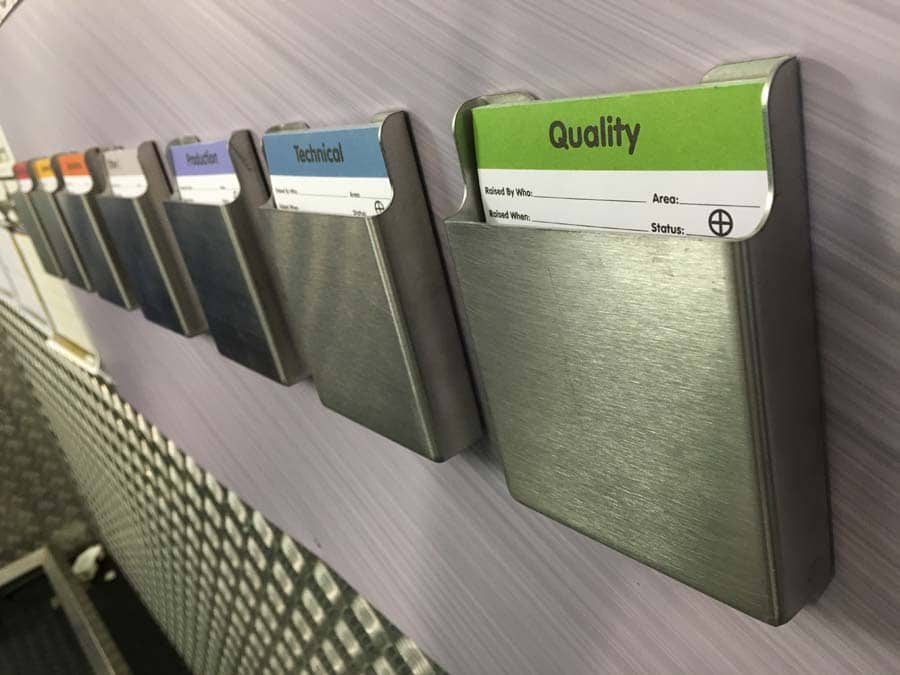 Durable document holders for optimal organisation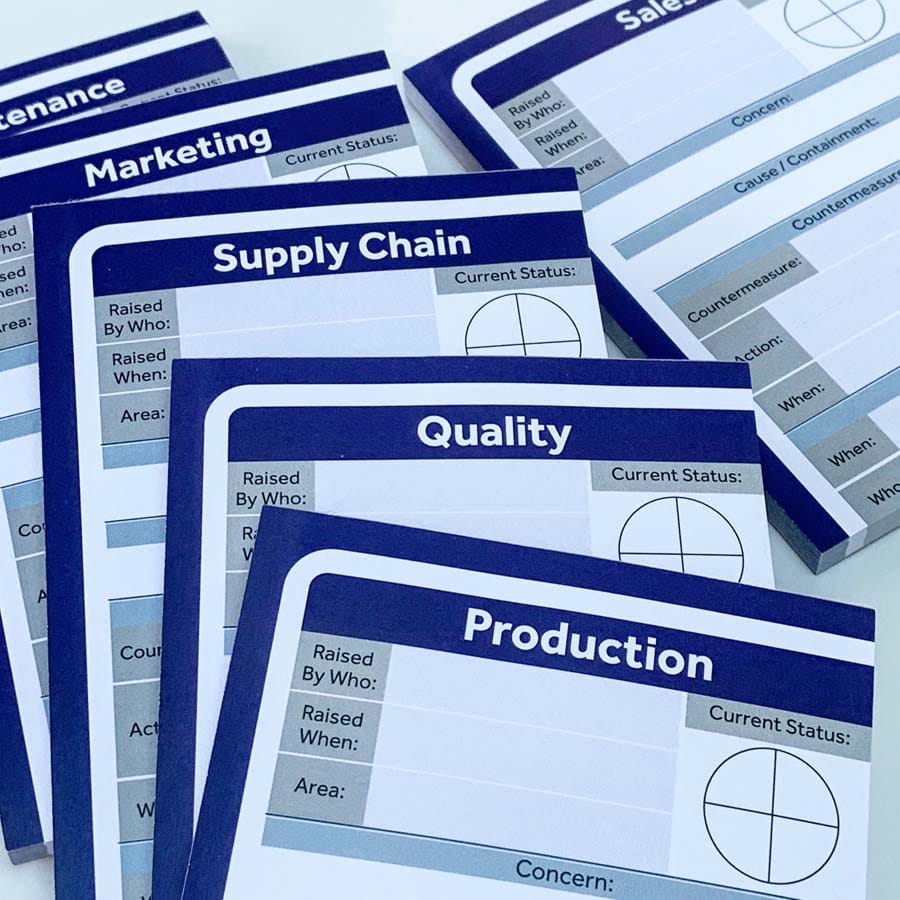 PFU tickets designed exclusively for your systems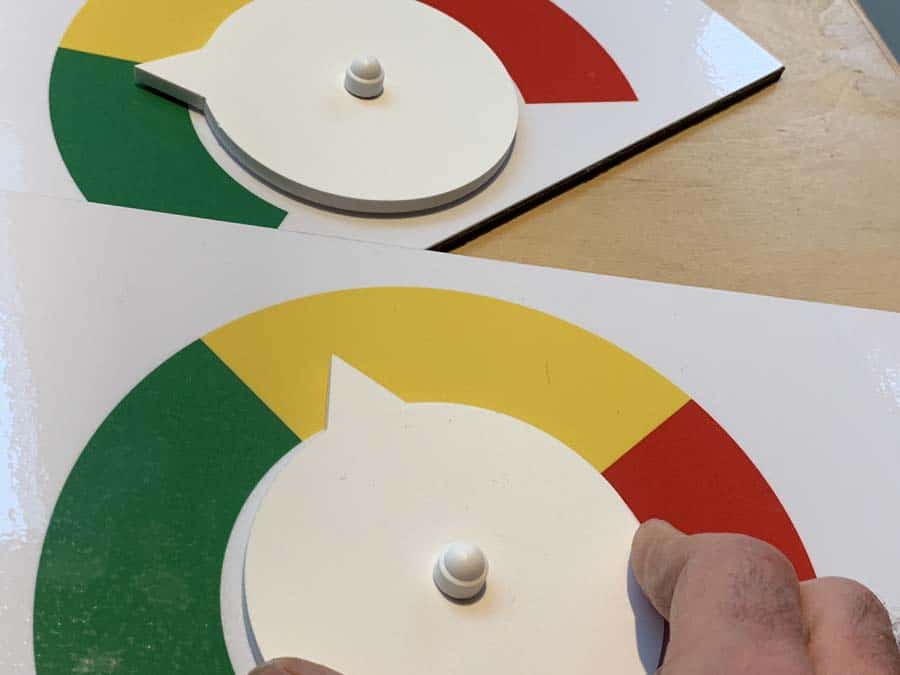 Red Amber Green Status dials

Bespoke Red Amber Green Status dials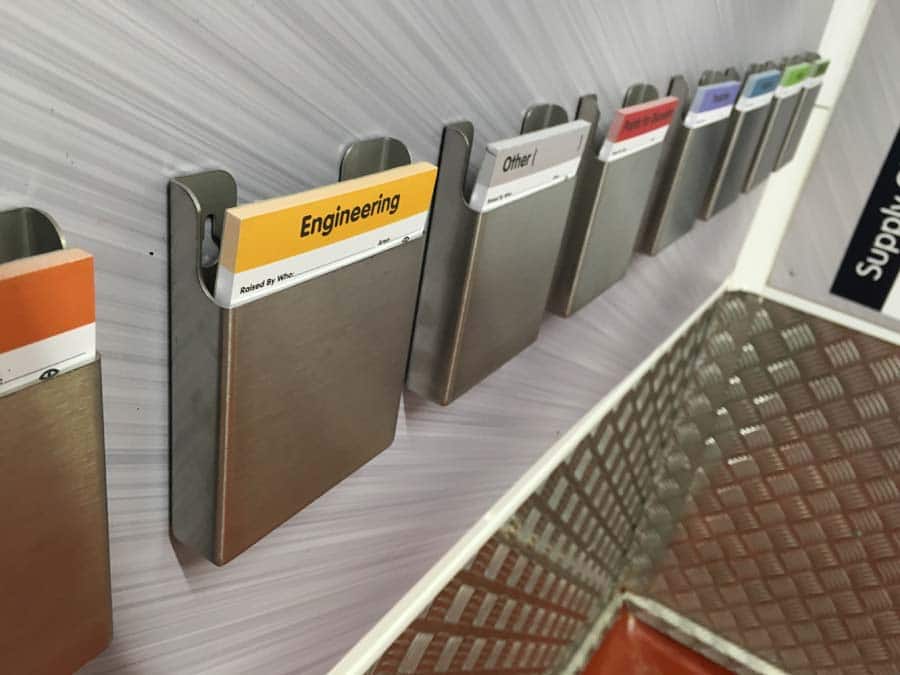 PFU ticket holders

Problem Follow Up ticket holders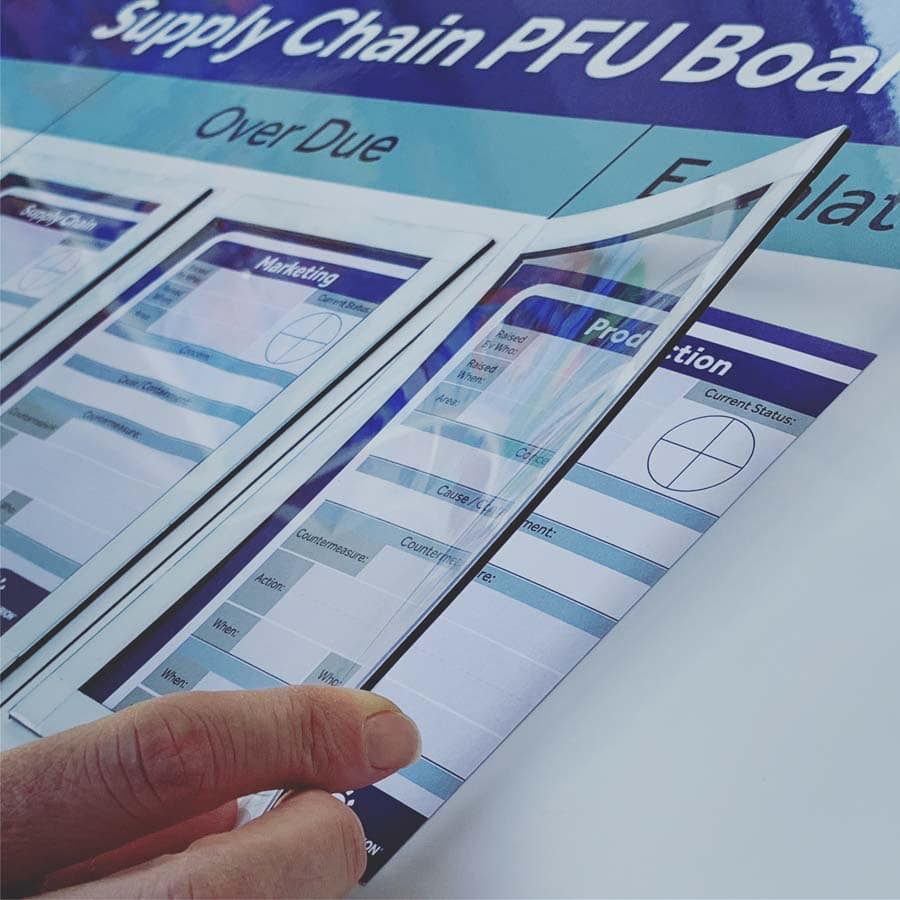 PFU document holders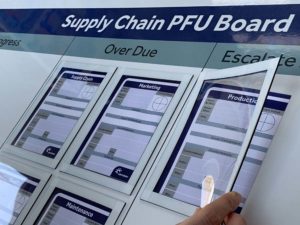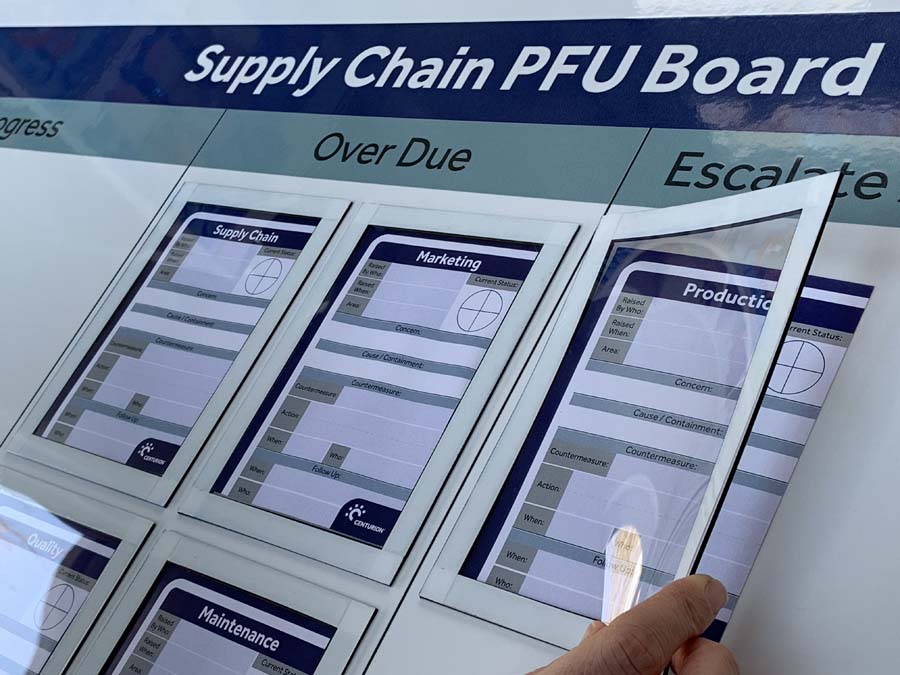 A PFU board example
Further ideas: Problem Follow Up Boards
In addition to PPS board, you may also like Problem Follow Up (PFU) Boards. The PFU Board is more than just a visual display. Certainly, it stands out and grabs attention. However, it also facilitates A Problem Follow Up system. This works because of the ease to make updates. In other words, write up the problem, log the cause and share the countermeasure. Likewise, assign responsibility for resolving problems.
Further options and accessories
Further board options
So show your visual display on any of these options. Firstly, a Frameless Board. Secondly, a Printed Whiteboard. Likewise, a Magnetic Overlay (covers any magnetic whiteboard). On the other hand, choose a Mobile Whiteboard (double sided options available). Finally, Handheld Whiteboard. In short, standard and custom sizes available. Furthermore, use indoors, outdoors or in wet production areas.
Further board accessories
So all our board options work with our board accessories and status indicators.  Above all, these add visual functionality. Therefore, accessories include a range of status indicators. Likewise, many magnetic options. For example, magnetic headers and magnetic labels. Furthermore, add document holders. In addition, T-cards and ticket systems. Most importantly, we custom make board accessories. As a result, we meet your needs.
Our Approach
We create visual management boards everyday. As a result we have plenty of experience. We work for organisations in food production, the power industry, national rail, pharmaceuticals, education, healthcare, packaging and distribution.
Our team works with a simple idea or sketch and creates a professionally designed layout. This is then turned into a highly functional visual management board.
We offer customised options because we want to create the perfect board for you. So, here are a few examples. We can add magnetic areas or a dry-wipe finish (for use with whiteboard pens). Furthermore, you can choose Red/Green sliders or R.A.G. (Red, Amber, Green) status dials so you can quickly and visually update your board. These are just a few examples of the ways in which our boards can be tailored to meet your needs. You may also be interested in whiteboard overlays that can be used on top of an existing magnetic board.
Discuss your custom visual management project further, because we deliver...