Strong, Durable Materials
Rust Resistant and Wipeable
Protective Laminate Finish
How
 shadow boards and cleaning stations work
Custom made shadow boards and cleaning stations work because they instantly show when a tool is missing. Furthermore, they show the shape of the missing tool. Importantly, o
ur shadow boards and cleaning stations are custom made. Firstly, to show your specific equipment or clothing
. Secondly, they are sized to fit your space. Finally, choose from hooks, pegs or whatever you need to best make the board work. In short, your board is made to keep your workplace tidy and well organised.
We custom make your shadow board. Firstly, to show your tools. Secondly, so it fits perfectly in your work space. Finally, so it functions perfectly for you.
Above all, we provide quality. Therefore, for example, we supply stainless steel as standard. Likewise, our boards have an anti-scuff finish. Finally, you choose from hooks, pegs, clips or whatever you need.
Rust resistant and durable
Our boards and cleaning stations are durable because we make them from resilient materials. Furthermore, they are suitable for all environments including food production.
We supply rust resistant components because we understand the factory setting. For example, these include stainless steel hooks, pegs and clips.
Magnetic or dry wipe
If needed, we add magnetic areas or a dry wipe finish (for use with whiteboard pens). For example, make fields on your board to show item codes. Likewise, mark when a piece of equipment needs testing. These are examples of how our shadow boards and cleaning stations can be customised.
If you need, we add magnetic areas or a dry-wipe finish (for use with whiteboard pens). As a result, you can mark the status of a tool, or note when it needs testing.
Examples of our Tool Shadow Boards
Multi-functional shadow board
Custom tool and harness shadow board
Kitchen equipment shadow board
Cupboard tool shadow board
Next test date tool shadow board
Stainless steel components
Quality Control
All our shadow boards have an anti-scuff finish because this makes them durable. Similarly, all metal components are rust resistant. In short, we provide quality control at every step of the process. This is because we want to deliver the best result for you. Above all, you can trust our experience in visual management. This is because we make tool shadow boards and cleaning stations everyday.
Shadow boards can be made to hold tools, washers, cleaning equipment or anything else you need. Above all, they are purpose made to meet your needs.
We create shadows specifically for your tools and equipment. Importantly, we help you with every step of this process.
Our Shadow Boards
We create shadows of your tools and equipment because we want the process to be easy for you. Similarly, boards are custom sized because they are made to fit perfectly in your work space. Our shadow boards work because they are custom made for you. Likewise, you choose the style of your board. Above all, we ensure your board functions the way you want.
Our Approach
Above all, our team works with a simple idea or sketch you have. In other words, we translate your idea into a professional designed. Subsequently, this design is turned into a functioning visual board.
Meanwhile, if you're not sure you need a board then we help you choose the right type of display. That is to say, we translate your idea into the most effective visual display. For example, perhaps a full wall visual provides greater impact. Likewise, a pull up banner is portable and therefore might offer flexibility. On the other hand, you might prefer a  whiteboard overlay. These are great because they work on top of an existing magnetic board. Furthermore, they can be swapped easily.
Bespoke shadow board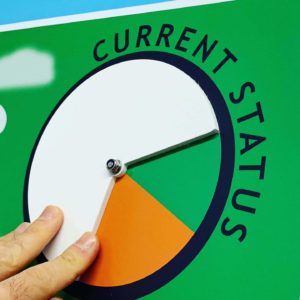 Red Amber Green Status Dial
Customisation
Ultimately, we custom make all our products because each one must work for you. Therefore, here are a few examples of your options. Firstly, we add magnetic areas for labels or colour coding. Likewise, choose Red/Green sliders or R.A.G. (Red, Amber, Green) status dials. These are great because they instantly show progress. As a result, you can make quick and visual updates. Secondly, choose dry wipe (for use with whiteboard pens). Finally, select accessories to make your board function exactly as you need. For instance, choose document holders, or add near miss cards. In short, these are just some examples of how our products are tailored for you. Most importantly, you decide.
We create visual management boards everyday. As a result, we have plenty of experience. We work for organisations in many different sectors. For example, food production, the power industry, national rail, logistics and pharmaceuticals. Likewise, we also deliver visual management products for a range of settings. For example, education, healthcare and manufacturing.
Discuss your customised visual management project with us because we deliver...