Follow these top tips for effective colour coding for visual management boards
Dry wipe colour coding is effective and easy
Firstly, consider using a dry wipe colour coding system (pictured below). Consequently, make colour coded updates using standard whiteboard markers. Above all, remember to use a colour coding system that work with standard marker colours. For example, Red, Blue, Green and Black.
Benefit from universal understanding
Most importantly, RAG or Red, Amber, Green colour coding is universally understood. Therefore, it is an obvious, accessible and clear system to choose.  To clarify, use RAG status dials to achieve this type of colour coding on your board.
Are custom colours most effective for you?
So, RAG undeniably works well in terms of colour coding for visual management. On the other hand, however, would your own colour coding system be most suitable for your working environment? For instance, to support a colour system already in place. Similarly, to show colours that reflect your brand. In addition, useful to show four or more status options. If so, then choose custom colour options. Like, for example, the ones showing on these status indicator shields.
Graduated colour coding for exact status updates
So, achieve a detailed approach to your colour coding. Therefore, show more graduation than Red, Amber Green. For example, show those colours and every shade between them. Above all, this gives a more exacting reference for status. In short, see how these status indicator gauges provide further detail.
Add words to the colours and make instant action points
Make your colour coding system utterly clear by adding text. In addition, for example, give labels to different levels of urgency. As a result, add clear signals to your colour coding. Above all, this is a highly effective visual system that prompts action.
Keep it simple with Red and Green
Red Green sliders represent the simplest type of status indicator. In addition, they are highly effective. Furthermore, they are small. As a result, these work brilliantly on boards with multiple fields requiring status updates.
Use daily colour coding to sustain best habits
So, use colour coding to make best practises into daily actions. Likewise, to see how well these actions are going over time. Therefore, sustain good habits. For example, see this 5S board. Or further examples of daily updates on these SQDC boards.
Use more than one status indicator for optimum colour coding
Employ multiple status indicators for highly successful colour coding for visual management boards. In other words, make every field on your board visual.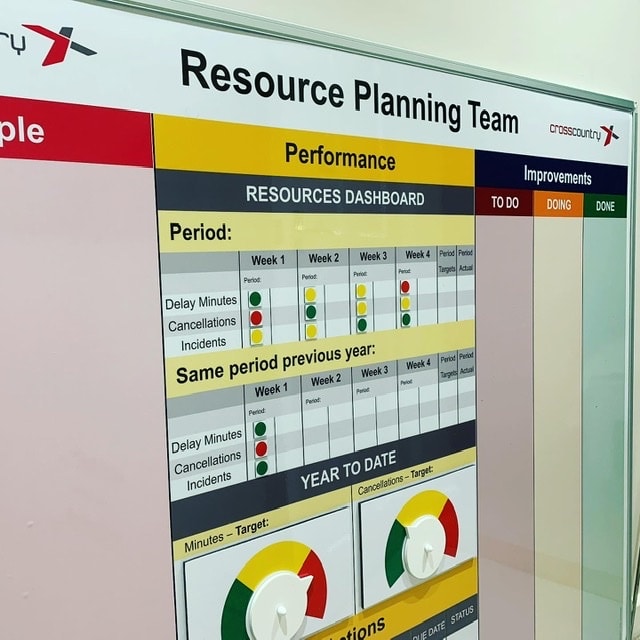 Many status indicators creating colour coding across the entire board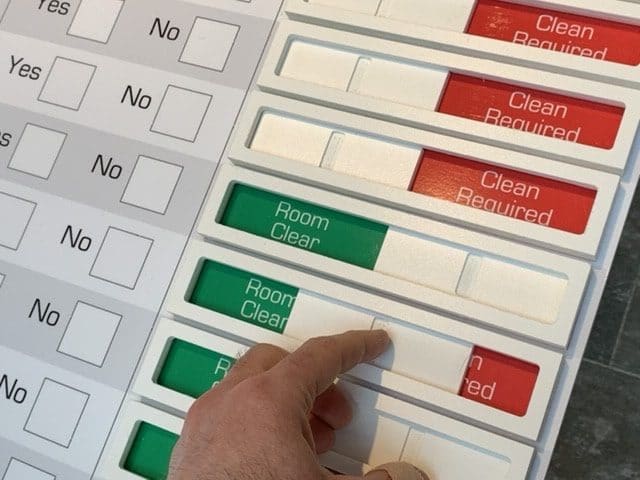 Status sliders – effective and neat for multiple fields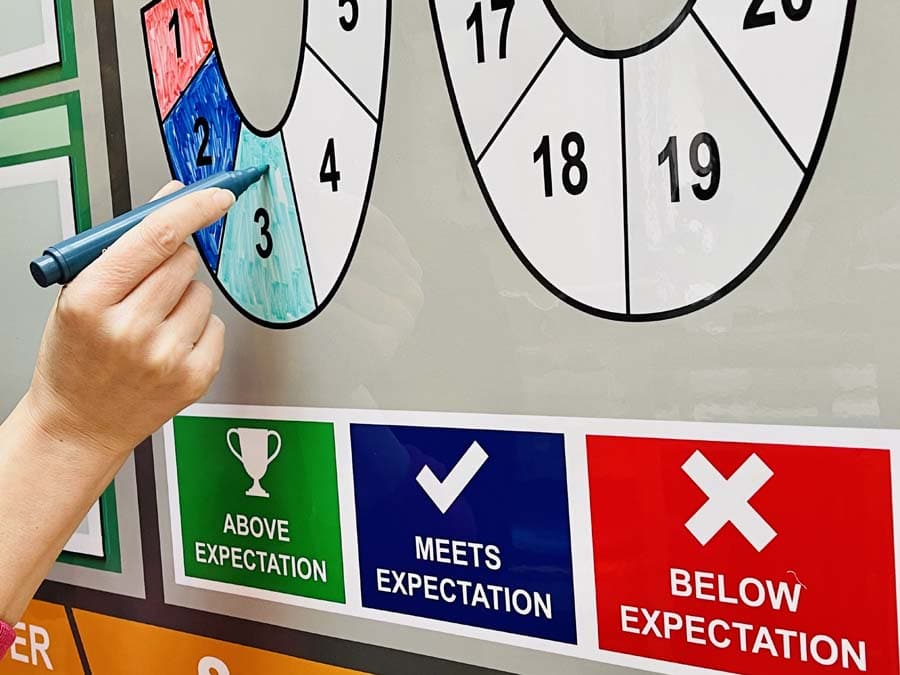 Daily colour coding to sustain good habits
Our Approach
We create visual management boards everyday. As a result we have plenty of experience. We work for organisations in food production, the power industry, national rail, pharmaceuticals, education, healthcare, packaging and distribution.
Our team works with a simple idea or sketch and creates a professionally designed layout. This is then turned into a highly functional visual management board.
We offer customised options because we want to create the perfect board for you. So, here are a few examples. We can add magnetic areas or a dry-wipe finish (for use with whiteboard pens). Furthermore, you can choose Red/Green sliders or R.A.G. (Red, Amber, Green) status dials so you can quickly and visually update your board. These are just a few examples of the ways in which our boards can be tailored to meet your needs. You may also be interested in whiteboard overlays that can be used on top of an existing magnetic board.
Discuss your custom visual management project further, because we deliver...