Dry wipe visual Management boards show your procedures in a visual and self-explanatory way. Furthermore, the dry wipe functionality ensures they are quick and easy to update.
Why dry wipe visual management boards work
Our dry wipe visual management boards are simple to use and easy to update. They work with standard dry wipe marker pens so it is easy to write on them. Unwanted writing is also wiped off cleanly using a standard whiteboard eraser. Because this writing process can be repeated many times, dry wipe is a flexible finish.
Quick and easy to update
Targets easily displayed
How dry wipe visual management boards work
Most importantly, a dry wipe visual management board shows progress towards shared targets. Therefore, it facilitates a team approach. So, firstly, everyone knows what they are working towards. Secondly, they know when to take action. Likewise, finally, what action to take to meet the target.
Tips for creating successful dry wipe visual management boards
Firstly, show the most relevant information about your process. Above all, in a way that is instantly clear. Furthermore, in a position that is close to the procedure.
Secondly show how the process is operating right now. That is to say, use a dry wipe marker to make instant status updates. Likewise, choose other options for showing the status or processes or targets.  For example, use RAG (red, amber, green) status dials for instant reference. Similarly, update from, for example, amber to green, as soon as the process is complete. See further examples of status indicators.
Finally, keep information relevant. The goal is to use your dry wipe visual management board to serve information to everyone, at a glance. In other words, show key data in a way that is instantly accessible to all.
Use status dials for fast-moving changes
Show status using dry wipe
Add magnetic document holders to keep documents safe
Custom make your own dry wipe visual management boards
Each dry wipe visual management board we make is unique because it is made for you. First of all, it is customised so it achieves your targets. Secondly, it shows exactly the information you need so it's relevant.
Custom size you dry wipe visual management board. This is so it fits perfectly in your work area and close to the process at hand.
You might want magnetic document holders or numbered magnetic stickers, so choose magnetic areas on your board. Similarly, you might want to add colour coded updates for instant visibility. These are just some examples of how our boards are further customised to meet your needs. We do this because, above all, they are made to work for you.
Dry Wipe Visual Management Board Examples
Safety cross on SQDP board
Dry Wipe board for easy updates
Dry Wipe board for daily meetings
Dry wipe safety cross board
Magnetic document holders
Dry wipe visual management board
Dry wipe boards for instant updates
Dry wipe boards for your team
Dry wipe Health & Safety boards
Custom designed dry wipe board
Food production dry wipe board
Portable or handheld dry wipe boards
Use, wipe and reuse small dry wipe boards (A4 or custom size). Add a handle or a clip for extra grip. Show exactly what you need on your board. For example, your logo and your design. Useful, portable and quick to update with dry wipe pen. Versatile and easy to carry. Popular within the healthcare environment.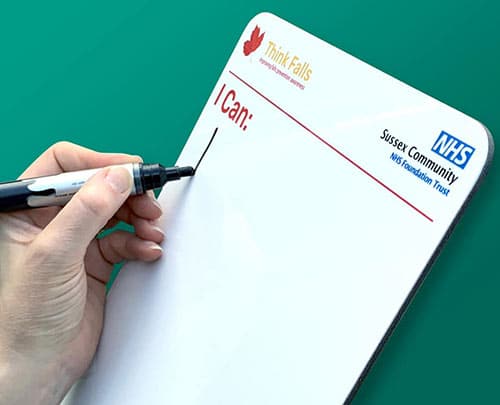 Handheld boards are portable and versatile
Our Approach
We create visual management boards everyday. As a result we have plenty of experience. We work for organisations in food production, the power industry, national rail, pharmaceuticals, education, healthcare, packaging and distribution.
Our team works with a simple idea or sketch and creates a professionally designed layout. This is then turned into a highly functional visual management board.
We offer customised options because we want to create the perfect board for you. So, here are a few examples. We can add magnetic areas or a dry-wipe finish (for use with whiteboard pens). Furthermore, you can choose Red/Green sliders or R.A.G. (Red, Amber, Green) status dials so you can quickly and visually update your board. These are just a few examples of the ways in which our boards can be tailored to meet your needs. You may also be interested in whiteboard overlays that can be used on top of an existing magnetic board.
Discuss your customised visual management project with us because we deliver...