Promote Continuous Improvement
Hygienic, Easy Clean Surface
Durable Magnetic Material
Protective Dry Wipe Laminate
Easy to Update Whiteboard Overlays
Our custom designed dry wipe whiteboard overlays transform an existing normal magnetic whiteboard into a highly efficient visual management board. We produce whiteboard overlays to fit an exact size. This is because they need to be placed directly over the front of your existing magnetic whiteboard. We make overlays from highly durable magnetic sheet material because we understand the rigours of the lean working environment.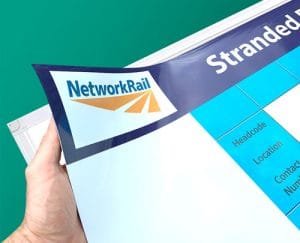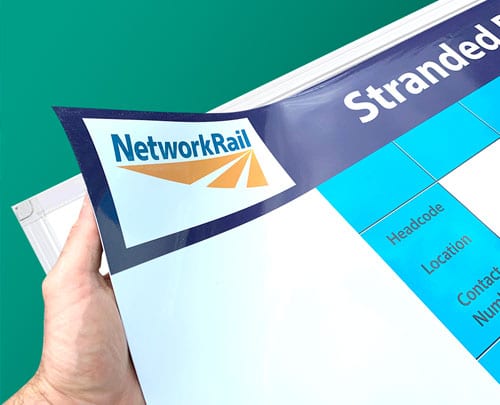 Durable and customised overlays for your whiteboard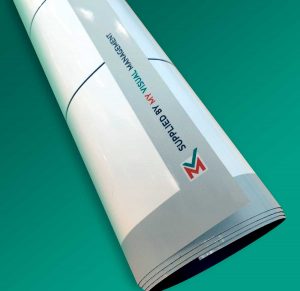 Stay current and agile with easy to use magnetic overlays
Promote Continuous Improvement
Dry wipe magnetic whiteboard overlays uphold continuous improvement because they can be easily updated. Furthermore, they can be swapped for a new design. Most importantly, they ensure you are always working with the most up to date information.
Whiteboard Overlay Examples

Whiteboard overlay for Network Rail

Hand Sanitisation overlays

Overlays are easy to attach and remove

Printed Whiteboards with overlays

Waste observation board overlays

Branded dry wipe magnetic overlays

Instant updates with dry wipe overlays

Overlays are easy to roll up and store

Overlays customised with your logo

Overlays with magnetic accessories

Red Amber Green status dials


Further options
You might want to add colour coded updates because they offer instant visibility. Therefore you can choose Red/Green sliders or Red, Amber, Green (RAG) status dials. This provides instant reference because an area's status is immediately visible. You can even add magnetic hooks to hold lightweight tools or equipment required in the work area. These are just a few more examples of the types of options that are available to you. Above all, we work with you from your initial enquiry onwards because we exist to ensure your overlay system work perfectly for you.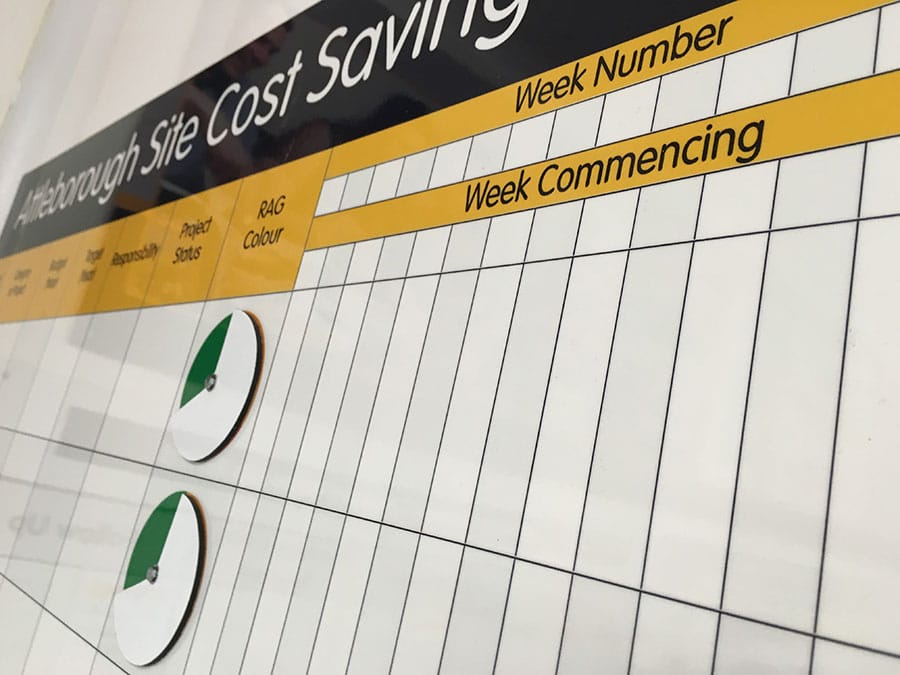 Accessories increase visual impact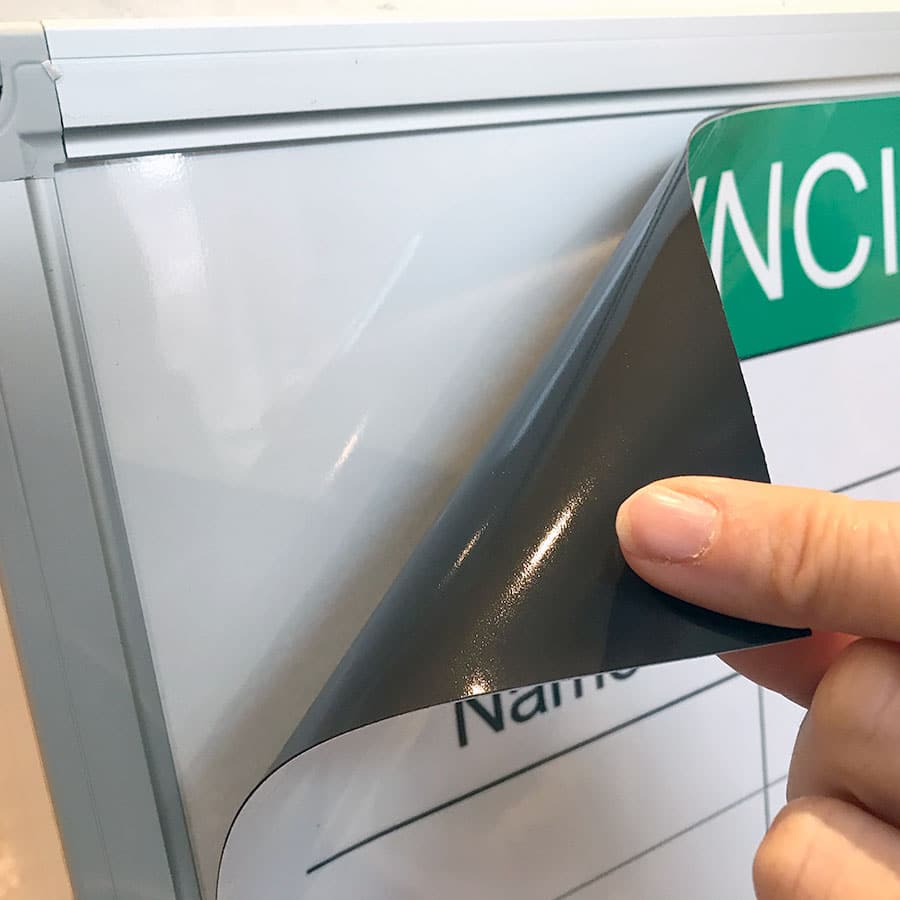 Designed to be durable and easy to clean
Hygienic Surface
Our magnetic overlays can be washed down and cleaned because hygiene is a priority. Both the front and back of the overlay can withstand regular cleaning because we understand that this matters in the work environment. Furthermore, you can clean the whiteboard behind the overlay without compromising the overlay. Also, if you need to rotate to a different design of overlay, you can simply remove and replace it. Finally, it is easy to roll up and store for future use.
Functionality and flexibility
The magnetic overlays work because the steel of the whiteboard retains magnetic pull. Therefore you can use magnetic parts on top of the designed overlay if required. This is useful because you might want magnetic document holders or numbered magnetic stickers, for example. Similarly, the overlay can be used as a pre-printed dry wipe surface, which you can then update using a marker pen.  These are just some examples of how our overlays can be customised to meet your needs. We offer this customised approach because, above all, they are made to work for you.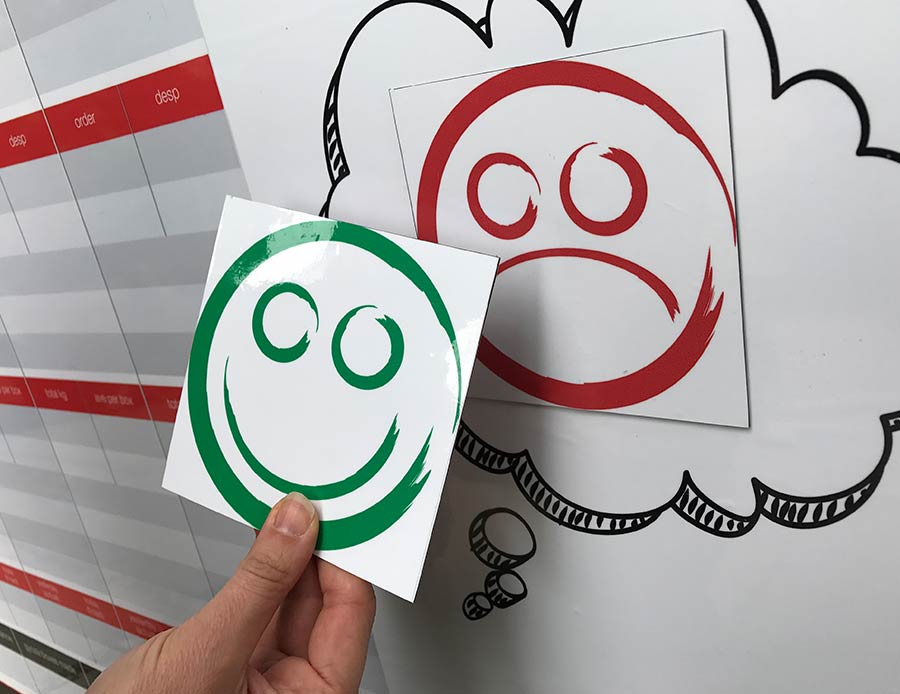 Add customised magnetic stickers
Bespoke designs with information relevant to your company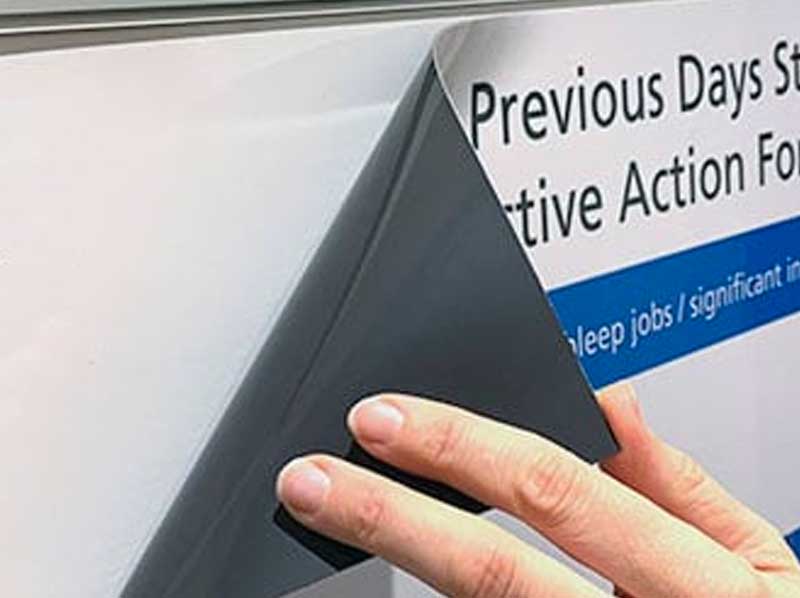 Customised overlays designed to fulfil your requirements
Custom designed Whiteboard Overlays
Each whiteboard overlay we make is customised because it is made to achieve your targets. Therefore it needs to show exactly the information you need.
First of all, it includes your team or business name. Secondly, it is custom designed to show all the fields or information you need to make and track progress. Similarly, it is made to offer any further functions you need. Noteworthy examples include magnetic status sliders, magnetic document holders, or magnetic numerals or months.
Furthermore, your whiteboard overlay is professionally designed by our in-house design team. We have particular experience in delivering visual management boards and overlays. Finally, your whiteboard overlay is also custom sized. This is because it needs to fit perfectly in your work space. Likewise, it must fit close to the process at hand.
The design team at My Visual Management is highly experienced because we create whiteboard overlays on a daily basis. We take a simple idea and turn it into a fully functional whiteboard overlay. Working from a basic sketch or note is part of our service because we want to make life easy. Involving you is also part of the process so you can see the idea develop. Above all, our team works with you so you can be sure you are happy with the end result. Once the design is set, My Visual Management puts your whiteboard overlay into production. If preferred we also supply custom designed whiteboards.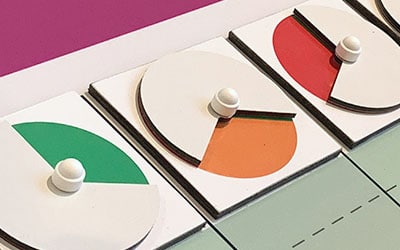 Status Dials or Sliders
Magnetically attaches to any whiteboard. This provides instant reference because an area's status is immediately visible. We can even add custom labels/colours to the status area, such as 'incomplete' in the red status or 'completed' in the green status.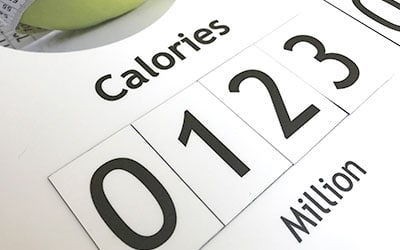 Number Sets and Labels
Choose magnetic labels or stickers so you can put data in numerical or sequential order. Furthermore, assign a red (sad) or green (happy) status to given data fields. These work because they deliver absolute clarity.
Column Dividers
Use magnetic column and/or row dividers. This give you the ultimate flexibility for your printed whiteboard. This is because you can change the column and row dimensions at anytime.
Privacy Cover
The magnetic privacy cover is useful because any sensitive data can be covered as required. This can be particularly helpful in a meeting room setting. This is custom sized so it fits your magnetic printed whiteboard.
Discuss your customised visual management project with us because we deliver...