Visual Prompts
Visual management communicates Health & Safety targets using a variety of tools. In other words, visual management serves Health & Safety because it gives visual prompts. These remind people about safety targets and when to take action to meet them.
More than just Health & Safety signs, visual management delivers a professional approach to Health & Safety communications. This works consistently across your site. Firstly, at entrances and exits where specific Health & Safety procedures are in place. Secondly, at custom made check stations, which you can position anywhere within your workplace. For example, on gates, doors or before entering critical areas.  Thirdly, on whiteboards that you already have on site.
Below are a few specific ideas for how visual management communicates safety targets. If you already have your own idea, then we can create it for you. Likewise, if you have a Health & Safety target but you're unsure how best to communicate it, then we can help. Please click below to start the process…
We make customised health & safety signage to display exactly what you need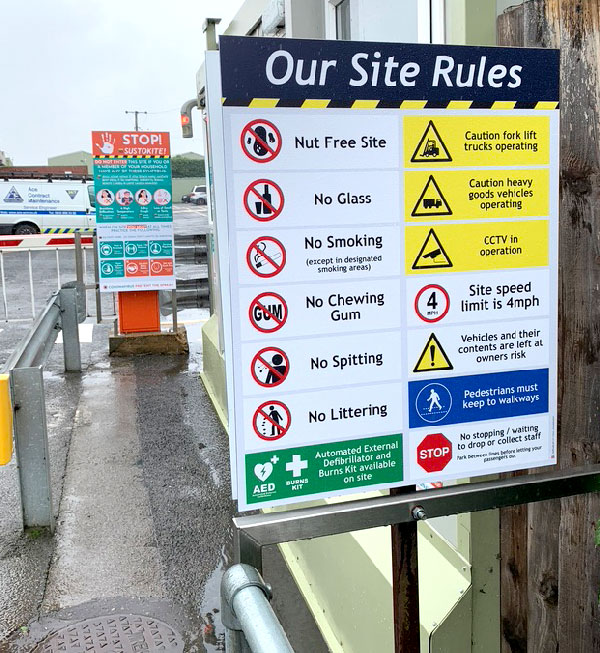 We make signs fit for use inside or outside, which are made to the size you need and can show your own site safety and other rules
Your choice
We translate your Health & Safety target on to the most suitable signs for your site. For example, these might be specifically sized display boards, swing signs, wall visuals, roller banners, magnetic signage or whiteboard overlays. You may also choose dry wipe or magnetic options.
We will help you decide the best solution for your site and space. Likewise, we turn your Health & Safety objective into a professional design with clear action points (in one or more languages).
Most importantly, your Health & Safety target stands out.
Health & Safety Board Examples
Sanitisation check stations
Covid-secure visual management
Sanitisation station boards
Changing Procedure Boards
PPE board
Check stations
Important Health & Safety tools, check stations work because they are a visual checkpoint. For example, the check station pictured shows what PPE to wear in a critical area, before entering it. Other examples of check stations include allergen control check points.
In short, we deliver custom made check stations to meet your specific needs. You can also see examples of previous PPE check stations we've made.
Procedure boards and signage
Whether showing, for example, changing procedures, PPE procedures, or hand washing procedures, we take a tailored approach. In other words, your board or sign is specifically designed to meet your Health & Safety objectives. It communicates your specific procedures and shows your branding. Procedure boards work because they provide easy to follow step by step guidance in pictures and words.
Keeping safe and social distancing
We are currently having to socially distance from one another. Making your team aware of how to keep themselves and others safe is crucial. Likewise, employers have a duty of care to protect key workers and anyone on site. Communicate keys Health & Safety messages about social distancing, hand washing, hand sanitisation and respiratory hygiene with your own signage
Health & safety communication board with magnetic document holders to safely house specific information. The documents can be easily updated anytime.
You May Also Like…
Social Distancing Signs
A range of signage available to help with social distancing.
PPE Check Stations
Display the correct PPE that should be worn per area.
Hand Wash Procedure Signs
Promote the correct hand washing procedures and methods.
KPI Tracking Boards
Track your daily targets and indicators with our fully customisable KPI boards.
Discuss your customised visual management project with us because we deliver...