How to Reduce Waste with Visual Management
Firstly, make your purpose clear: reduce waste. Secondly, take steps to tackle every form of waste. In other words, audit your workplace purely in terms of waste reduction. Then, identify the areas where you need to take action. Finally, use visual management boards to set, monitor and meet waste reduction targets. Above all, take action everyday to reduce waste.
We understand how important reducing waste is in your working environment.  We also know how to reduce waste with visual management. As a result, we offer visual management  and KPI (Key Performance Indicator boards) to support you.
How to Reduce Waste with Visual Management using a KPI board
With our help, make a waste reduction KPI (key performance indicator) board . Firstly, use it for instant visual reference. Secondly, use it to track performance. This works because it offers clear visual targets and action points. This is an essential visual management tool for any progressive or lean environment because it monitors and drives progress.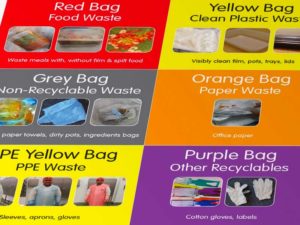 Waste Reduction Visual Management Board
Updating KPIs with magnetic numbers
War on waste board
Target all forms of waste
Make reducing waste as an ongoing concern
Bring your KPI board to life
You can reduce waste with visual management in a number of ways. For instance, add status dials to your waste reduction KPI board because they give instant reference. In other words, these are powerful for instantly expressing when action is needed. For example, mark when an action is "Done" with Green. Similarly, show actions "To do" as Red. Finally, use Amber for actions that are "In progress". Therefore, choose Red/Green sliders, or Red/ Amber/ Green (RAG) status dials. These work because they make waste reduction status immediately visible. Most importantly, connect actions with each status and make the difference.
Further ideas for how to reduce waste with visual management
Above all, make targets visible. In other words, show clearly defined targets and connect them with actions. Firstly, set your targets on your KPI board. If your targets change then no problem. We make your board so it works just as you need it to. For example, use magnetic labels or number sets for quick updates. To clarify, we make whatever magnetic labels you need to do this.
Most importantly, track results because this is how progress happens. In other words, this is a necessary function of Continuous Improvement.  Therefore, edit results over time. For example, use dry wipe pen or magnetic labels (or both) to edit your board. Consequently, we offer dry wipe and magnetic options for all boards.
Customised waste reduction board
Each and every waste reduction KPI board we supply is custom designed. As a result, it meets your exact needs. Likewise, it is custom sized to suit your workspace. Therefore, it fits perfectly and close to the process at hand
.
Other options to reduce waste with visual management
 So far we have covered KPI boards, which work very well. However, there are many other visual management display options. Firstly, wall visuals are large and impactful. Secondly, floor markings are highly effective, particularly for segregation. Furthermore, use labels and a range of other accessories to full advantage. For example, mark your waste bin with your waste reduction target. Alternatively, use whiteboard overlays. These work because you make an existing magnetic whiteboard is a visual management display to reduce waste.
Reducing total waste
Colour coding is effective
Examples of our Waste Management Boards
Zero waste to landfill display
Waste reduction awareness
Sustainability board in situ
Waste Management dry wipe board
Red Amber Green status dials
Site sustainability vision wall
Visual Management with status dials
Sustainability visual management board
Interactive status sliders
Carbon reduction magnetic overlays
Sustainability journey board
Magnetic accessories for updates
Display waste management figures
Waste Reduction board
Use our experience
The design team at My Visual Management is experienced. This is because we create all types of KPI and visual management boards daily. Consequently, we take a simple idea and turn it into a fully functional visual management tool. We happily work from a basic sketch or note because we want to make life easy. We involve you in the process, so you see the idea develop. Above all, our team works with you so you can be sure you are happy with the end result. Once the design is set, My Visual Management puts your board into production.
Quality products
All My Visual Management boards are made from lightweight and durable materials because that they need to last. Even in busy or wet areas within a factory setting, boards withstand the challenges of the environment because they are fit for purpose.
Discuss your customised visual management project with us because we deliver...